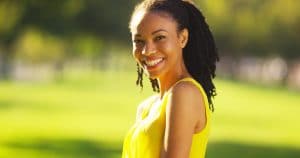 Who doesn't want a perfect smile? Your smile helps you feel confident in social situations and in pictures. If your smile needs a few tweaks to look its very best, you're in luck. Modern cosmetic dentistry provides all kinds of solutions to help you fix your smile. Depending on your budget and need, you can choose the right treatment that helps your smile look its best. It all starts with talking to your dentist about your options. Here are some of the treatments you can look forward to.
Porcelain Veneers Can Make a Variety of Adjustments
If you haven't considered porcelain veneers before, you may want to start. Porcelain veneers are thin layers of dental porcelain that your dentist will bond to the surfaces of your teeth. Advantages of this type of treatment include that it fixes slight uniformity issues and can whiten the appearance of your smile all with one procedure.
Invisible Aligners Correct Crooked Teeth
Braces are a relatable junior high experience for many people, but the prolonged treatment timeline and negative perception about the appearance of traditional braces can be a deterrent for many. Invisible aligners provide a great solution for straighter teeth, no matter your age. They're discreet and comfortable.
Whitening Brightens Your Smile by Several Shades
Of course there's also teeth whitening. If you've tried over-the-counter products before with little success, it's time to work with your dentist. Your dentist can set you up with a whitening treatment that really works for you.
Dental Bonding and Contouring Make Minor Physical Adjustments
Bonding and contouring are a powerful tandem that can help correct for uniformity issues. Do you have small cracks or grooves in your teeth that stand out when you smile? Bonding and contouring add and gently shape dental enamel to make a more uniform smile.
Elm Creek Dental Is Your Home for Cosmetic Dentistry
To decide which cosmetic treatment is best for you, you'll want to consult with your dentist. Elm Creek is your home for cosmetic procedures. Dr. Carter can help you choose a treatment plan that gives you the results you're after. To set up a cosmetic consultation, contact Elm Creek Dental in Maple Grove, MN by calling 763-416-0606.