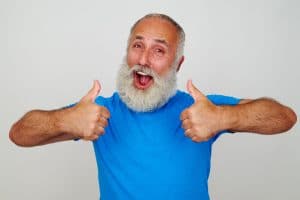 Facing setbacks often creates a true test of character. When you encounter hardship, do you wallow in despair, or do you find a way to persevere? Losing your adult teeth can feel like a major setback. Your teeth allow you to chew food and feel comfortable with your smile. When you lose a tooth — or multiple teeth — to tooth decay or an accident, you may not know what to do. You may feel sad and upset initially, but you have the power to make things better. Modern dental restorations make it possible for you to recover from tooth loss. Dental implants are the premiere solution for tooth loss. Implants provide the structural support, functionality, and appearance of your original teeth. Here's how dental implants could be helping you.
Dental Implants Are Rooted in Your Mouth, Making them a Long-Term Fix
You have several different options for tooth replacements after suffering tooth loss, so how do you choose? Dental implants create the best permanent solution. That's because implants are surgically placed in your mouth. A biocompatible titanium post functions like a tooth root, stabilizing your jaw bone and the surrounding teeth. Your dentist can then add a dental crown to the top of the implant to restore the bite function and appearance that you had before tooth loss.
Durability Matters When it Comes to Replacing Missing Teeth
When you recover from tooth loss, you want one solution that will stand up to the test of time. Dental implants, because of their stability and durability combined, offer the closest thing to a natural tooth replacement. Once your restoration is set atop the implant, you won't be able to tell the difference between the replacement and the rest of your natural teeth. Implants can even prevent jawbone degeneration, making them the best available option.
Talk to Dr. Carter and the Elm Creek Team About Dental Implants
If you've suffered tooth loss, don't feel down. While it is a setback, you can restore the smile that you once knew with dental implants. Dr. Carter and the Elm Creek team provide a comfortable care environment fueled by expertise. Schedule your consultation for dental implants today by contacting Elm Creek Dental in Maple Grove, MN at 763-416-0606.