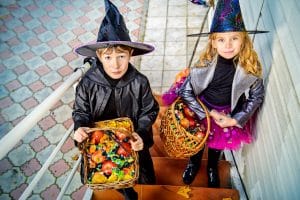 Halloween is nearly here! The weather has turned chilly, decorations are up in front yards across the neighborhood, and pretty soon, costumed kiddies will be running rampant on the hunt for candy. There's plenty to prepare for when it comes to Halloween, and trick-or-treating is a big part of the experience. Are you ready for trick-or-treating? The checklist is longer than expected. You may have candy for your impending guests, and you may have a neighborhood route worked out for your little one, but are you ready for everything that comes after trick-or-treating? Once your children bring home their spoils, all that candy will have to go somewhere. If your kids end up eating an excess of sugary snacks, you'll want to make sure their teeth don't suffer.
Be Sure Your Kids Are Brushing and Flossing After Trick-or-Treating
This doesn't just go for the night of Halloween. After all, your kids probably won't go through their entire supply of candy in just one evening. Maintaining a consistent oral hygiene routine during this time is especially important to stave off cavities. Sugary snacks leave residue in your child's mouth that feeds harmful bacteria. By brushing and flossing regularly, your little one can keep this issue at bay.
Plan on Making a Trip to the Dentist If You Haven't Had a Checkup Recently
In addition to being a fun time to dress up, Halloween also serves as a good reminder to visit your dentist. If your child hasn't had a checkup or cleaning in a while, now is the perfect time to make an appointment. Staying on top of problems saves you time and money in the future, so don't wait to address any issues.
Don't Let Trick-or-Treating Turn Sour
Schedule an appointment with your Maple Grove dentist to make sure your little one's wrath health is in good hands. Dr. Carter will ensure that your little one feels comfortable during his or her visit, and that they're getting the education they need to adopt good brushing and flossing practices. To schedule a post-Halloween visit, contact Elm Creek Dental in Maple Grove, MN at 763-416-0606.