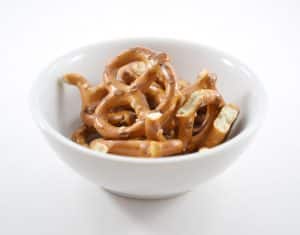 Are you someone who can't seem to get enough of hard, crunchy foods? Maybe there's something about biting into a nut and hearing it crack apart that makes you smile. Perhaps you love the crunch factor because it just makes eating more enjoyable. Whatever it is, we are sorry to inform you that you might need to curtail this passionate approach to eating and limit the harder foods, opting instead for softer options. Why so, you wonder? Let us explain how it may be affecting your oral health.
Erosion
There's erosion that happens as the result of acids that eat away at your teeth. Then, there's the consistent friction that can happen over and over that will eventually wear your enamel down. If you've ever heard of bruxism, you know that daily grinding can lead to worn teeth (which may be sensitive and with which you may find it difficult to chew your food). The same is true when you eat foods that are exceptionally hard too frequently. They can contribute to filing down your teeth. So, keep your diet varied to avoid such oral health concerns.
Cracks
You know what it's like when you try to force something when two objects are involved. One of them will eventually give! If you're trying to eat foods that are too hard for your teeth to break through, your teeth are going to be the objects that break. When in doubt, find something else to eat. Or, prepare that particular food in such a way that makes it easier for you to chew. Otherwise, the oral health issue you'll be facing will include a broken tooth.
Protect Teeth From Damage With Our Help
Remember to talk with us about how to choose foods that will benefit your smile instead of damage it. To learn more about caring for your smile, schedule a visit in Maple Grove, MN by calling Elm Creek Dental today at (763) 416-0606. We proudly service the residents of Maple Grove, Brooklyn Park, Rogers, Elk River, Osseo, Otsego, Plymouth, Wayzata, and surrounding communities.