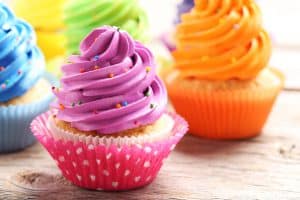 It's probably no surprise to you that summertime often leaves you face-to-face with something sweet and sugary at every turn. At work, someone has brought in morning donuts. At parties, you're faced with lemonade and cupcakes. When you're out and about, you give in to the temptation for a snow cone on a hot day. How to protect your oral health when sugar abounds, you might wonder? Don't worry! We can easily help you with this challenge.
Just Say, "No Thank You"
Sometimes, we reach for a cookie, fruit punch, donut, piece of cake, etc., because it happens to be there, it looks incredibly good, and it's a little bit hard to walk away. However, remember that even if your entire office or every guest at a party is munching away on sweet treats, you have the option to simply say, "No thank you!" and reach for something better for your oral health.
Become Deliberate
Instead of just snacking on whatever sugary foods happen to come your way, decide to become a bit more deliberate. Choose the stuff that you really want and only if you have the ability to rinse after you eat it (with water, of course) and then brush your teeth within about 30 minutes. This way, you dramatically lessen the impact the sugar has on your oral health. Otherwise, skip it!
Keep It Out Of Your House
Let's say you really love summertime sweets, so saying "no thanks" doesn't sound like very much fun. Well, one way to limit the amount of sugar you're taking in is to keep it out of your house. That way, you occasionally enjoy treats at work, functions, or other places, but when you're at home, it's simply something you don't need to worry about.
Keep Your Smile Safe By Scheduling Care
Come to see us consistently for your dental care by contacting us to set up visits twice annually. To learn more about caring for your smile, schedule a visit in Maple Grove, MN by calling Elm Creek Dental today at (763) 416-0606. We proudly service the residents of Maple Grove, Brooklyn Park, Rogers, Elk River, Osseo, Otsego, Plymouth, Wayzata, and surrounding communities.