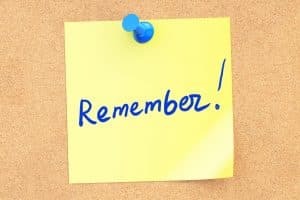 If you think you're alone in your feelings about flossing, think again. We hear from many patients who tell us that they can't stand the need to floss, which is why they simply skip it altogether. While we understand the decision to avoid something you find absolutely awful, we offer you some words of encouragement: Consider a few things that you should remember on a consistent basis and you just might develop a much better relationship with this (very important) part of the dental hygiene you should practice every day.
#1: You Have To Do It!
When you're coming up with a long list of reasons in your mind that you don't want to floss, remember that no matter the rationalization you create, you still have to do it. If you don't make flossing part of your dental hygiene experience, you're going to face some unpleasant side effects like cavities and gingivitis. If you do floss, you're probably not going to have to face these concerns or require treatments to fix them.
#2: Try Something New
Remember to try something new when you can't stand flossing. If you have been using the same flavor or type of floss forever and you aren't having a good time with this portion of your dental hygiene, then the answer is simple: Go out into the world and try another type of floss. Then another. Play around with flavor, texture, waxed versus unwaxed, and more until you figure out what you don't dislike.
#3: Let Us Show You The Best Way
Most of the time, the reason a patient abhors flossing is because he or she isn't doing it correctly. From the way you slide the floss between teeth to the way you hold the floss, every last detail can make or break your experience. Ask for help! It can make a big difference.
Protect Your Oral Health With Flossing
Can't stand flossing but you know it's essential? Ask us about how to make it better during your upcoming visit. To learn more about caring for your smile, schedule a visit in Maple Grove, MN by calling Elm Creek Dental today at (763) 416-0606. We proudly service the residents of Maple Grove, Brooklyn Park, Rogers, Elk River, Osseo, Otsego, Plymouth, Wayzata, and surrounding communities.