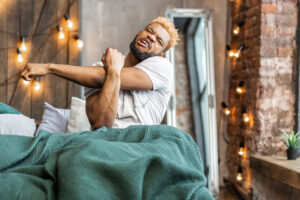 If your loved ones have mentioned their concern over your snoring, take the time to speak with an oral health professional. You may be experiencing a common sleep disorder that is preventing you from having the best rest possible. Chronic obstructive sleep apnea is a condition that many people try to ignore, but being proactive in your treatment can help you to avoid serious health complications. For a number of reasons, sleep apnea patients are more likely to experience such conditions as stroke and heart attack, so take your sleep seriously!
With our team of oral health professionals, we can help you to understand the science behind your sleep. Schedule an appointment at our office in Maple Grove, MN, and learn about your options in improving the quality of your rest. For those with sleep apnea, we offer a non-surgical solution with the use of an oral appliance. This method repositions your jaw, allowing you to breathe freely overnight!
Chronic Obstructive Sleep Apnea Can Be Dangerous To Your Health
If you struggle with chronic obstructive sleep apnea, you might be inclined to think that you can live with your condition, but it is worth it to make the effort in finding a suitable form of treatment. When you allow your common sleep disorder to continue, it can become a serious hazard to your health. Sleep apnea occurs when your throat softens too much during your deepest form of sleep, preventing you from drawing a full breath. These pauses can last over a full minute!
Apnea patients are at a significantly higher risk of developing serious health conditions such as heart attack and stroke. By ignoring your sleep disorder, you are putting yourself at risk of these potentially life-threatening concerns, so reach out to an oral health provider if you believe that you may be struggling with sleep apnea.
An Oral Appliance Helps You To Treat Your Sleep Apnea Without Machines Or Surgery
One of the reasons that people avoid seeking treatment for sleep apnea is because they want to avoid the intrusion of a CPAP machine or a surgical option. Talk to our team about whether an oral appliance can help you to achieve a better night of rest, without the need for these procedures. With an appliance-based therapy, you simply wear a slim mouthguard during sleep, preventing your throat tissue from contact by repositioning your jaw slightly forward!
Learn About Non-Invasive Sleep Apnea Treatment With Elm Creek Dental
For more information on how an oral appliance can help you to achieve a greater night of sleep, speak to our team today. Give us a call at Elm Creek Dental in Maple Grove, MN at (763)416-0606, and ask about all the advantages of an oral appliance!