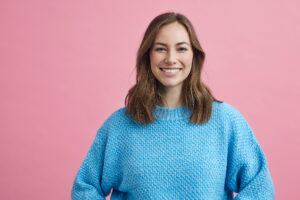 Even in a perfectly healthy mouth, there may be issues with your appearance that you would like to change. Your cosmetic problem could even be contributing to further damage. The alignment of your smile can create areas that are difficult for you to properly clean on your own. Even with dedicated appointments with your dentist, plaque and tartar can accumulate in locations where you experience crowding or overlapping. The buildup of these substances leads to tooth decay, and you might not even be aware that it is happening.
Speak with a qualified professional at Elm Creek Dental in Maple Grove, MN about your specific oral health needs. For the treatment of malocclusion and misalignment, clear aligner technology brings a new form of orthodontic improvement. Available from multiple providers, this approach has distinct advantages over traditional means of alignment correction. Skip the over-the-counter whitening products, as well, with a professional solution aimed at lifting the accumulation of stains!
A Private Way To Improve Your Appearance With Clear Aligners
Advancements in orthodontic treatment allow for a novel method that can keep your process a little more private. Clear aligners use a BPA-free set of progressive trays, which you change as you reach closer to your goal. This approach is becoming increasingly popular with patients of all ages. Adults in particular can benefit from a discreet solution, so that they can continue their day with less intrusion.
Alignment treatment can help beyond your appearance, as well. When your teeth crown and overlap, they can create places where you cannot appropriately clean with your routine hygiene maintenance. Discuss the possibility of clear aligners so that you have control of your oral health.
Trust A Professional With Your Teeth Whitening
Another popular form of cosmetic improvement is a teeth whitening procedure. Over time, stains can accumulate on your enamel, even with diligent brushing and flossing. Take the time to speak with a qualified dental caregiver about your options, as over-the-counter solutions can cause lasting damage to your smile. Keep a trained eye on your enamel through the process.
Helpful Cosmetic Dentistry In Maple Grove, MN
Your cosmetic appearance can have ties to your lasting oral health. For more information, speak with our team at Elm Creek Dental in Maple Grove, MN, today at 763-416-0606. Schedule an appointment for a checkup and open a dialog with your provider about the ways that you can protect your teeth while improving your look. Maintain a vibrant smile with the use of clear aligners, so that you can fully reach every part of your mouth during your home care. Additionally, keep an eye on the vitality of your enamel with the professional whitening of your teeth. We look forward to speaking with you about all of your cosmetic concerns!