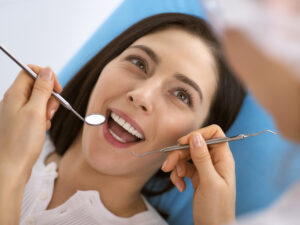 If you are not consistently brushing and flossing, you become vulnerable to tartar buildup, and you have a greater risk for problems like dental decay and gingivitis. Just as you should be consistent with daily care, you should make a point of seeing your dentist for routine exams and cleanings on a regular basis. Our Maple Grove, MN dentist's office is here to help you take on the task of managing your oral health. During your regular checkups, we provide important updates about your smile's well-being. We also provide preventive care in the form of your regular cleanings, which will fight plaque and tartar buildup to help you avoid new issues with your dental health.
Dental Exams Should Be A Consistent Part Of Your Smile Care Routine
If you want to take care of your smile and avoid potential difficulties with cavities as well as gum disease, you should have a consistent routine in place to fight bacteria and food debris from building up. In addition to taking on this problem each day, you should make sure your efforts are effective by regularly booking and attending preventive dental exams. Without these appointments, you lose out on important updates about the state of your oral health. You will also miss out on cleanings that remove tartar buildup, something that you are not able to do with your toothbrush or floss.
Scheduling Dental Exams And Cleanings On A Regular Basis
Unless your dentist recommends that you do otherwise, you should plan on attending routine checkups on a semiannual basis. When you spend more time in between appointments, you run the risk of letting problems develop and go untreated, which can lead to complications. For example, if you have a cavity that forms and is not caught in time, the damage can make the placement of a crown necessary. While both fillings and crowns have to be put in place permanently, a filling lets you preserve more of your enamel, as it only covers the area where decay affected you. It is also harder to avoid issues, as they can develop because you have not had your smile cleaned of tartar buildup. The good news is that when problems are present, we offer restorative dental services that take care of teeth and preserve your appearance!
Talk To Your Maple Grove, MN Dentist About Scheduling Your Next Dental Exam
Through regular dental exams, we help our patients remain safe against potential problems like tooth decay and gum disease. These visits, along with good daily behaviors, will help you avoid oral health problems and maintain an appearance that you are proud to show off to the world. If you need to book your next appointment, reach out to Elm Creek Dental in Maple Grove, MN, today at 763-416-0606.