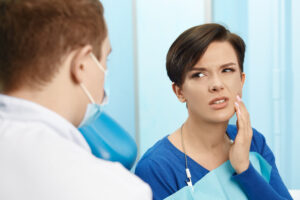 Unresolved tooth pain can interfere with your daily plans. It can also serve as your warning that you have an oral health issue that you need to address. Persistent or serious discomfort can point to an issue with an infected tooth, something that will require a root canal treatment. At our Maple Grove, MN dentist's office, we can provide this service to stop a serious cavity or injury from doing any further harm to your dental well-being. Remember that we are also here to help by providing regular dental checkups, which can lead to the discovery and treatment of problems before they become painful.
Tooth Pain Can Be A Painful Symptom Of Poor Oral Health
Problems with your dental health can worsen as time passes. At first, problems with dental decay can escape your notice. This is part of why regular exams are beneficial—trouble with a cavity can actually be identified and addressed before you feel any discomfort. By the time an issue with your oral health is serious enough to cause you discomfort, it can point to an issue with an infection. To address the matter, it can be necessary for your procedure to tend to problems within the pulp, the inner chamber of your tooth.
How A Root Canal Addresses Problems Linked To Infection
Root canal treatment deals with problems within your tooth. The procedure will see your dentist carefully access your pulp in order to remove bacteria and infected tissues that are currently contained within it. From there, we can seal the pulp and prepare you for the placement of a durable dental crown.
You may feel hesitant to move forward with restorative dental work when you expect that it will be more involved. Remember that this procedure puts a stop to active discomfort, which means you can be free from the tooth pain that has affected you. It also enables us to do work that saves a vulnerable tooth from being lost!
Capping Your Tooth With A Dependable Crown
A durable, discreet restoration can be placed over your tooth after your root canal procedure. With a custom dental crown, we can provide lasting protection that keeps a tooth safe after more involved restorative work. For a tooth that is more visible when you speak and smile, we can recommend that you receive a crown that actually mimics the appearance of healthy enamel!
Talk To Your Maple Grove, MN Dentist About Relief From A Root Canal!
Through root canal treatment, problems with an injury or advanced cavity can be resolved, saving your tooth and putting a stop to persistent discomfort. Our practice is prepared to both address active problems and help you prevent trouble through consistent checkups and exams. For more information about root canal treatment or any other procedure we can offer, reach out to Elm Creek Dental in Maple Grove, MN, today at 763-416-0606.