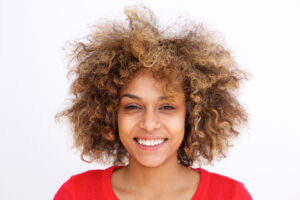 Whether you have significant concerns about your smile or only hope to make conservative but meaningful changes, your Maple Grove, MN dentist can help. There are different strategies that we can recommend to those who hope to resolve problems with their appearance. For a lasting solution that can take on many problems at once, we can offer porcelain veneers. With these slim but durable restorations, we can make your teeth look more attractive and healthier by hiding damage and discoloration. We can also make positive changes to tooth shape and size. Whether you decide to move forward with this or another service, we are here to help you have a great experience with cosmetic treatment.
Do You Feel Self-Conscious About Your Smile?
Different issues make people hesitant to show off their smiles. Problems with the color of your teeth, the appearance of dental damage, and issues with how your teeth are currently aligned can rob you of confidence in the way you look; for some people, multiple areas of concern need to be addressed. The good news is that even people who feel they need significant work can see positive results when they have porcelain veneers placed. Your restorations will only cover limited portions of your tooth structure, but that coverage is sufficient for taking on a range of issues and offering lasting value!
Using Porcelain Veneers To Change Your Appearance For The Better
We can take on embarrassment over your appearance by placing personalized porcelain veneers. These thin restorations require a limited coverage area, as they only occupy space on the fronts of teeth. Their design ensures that they fit properly and maintain a natural look, and their slender size can minimize preparatory work required for their placement. We can have them ready for you in just two appointments, after which you can marvel at how your appearance has improved!
Exploring All Of Your Options For Cosmetic Treatment
There are different options for cosmetic dental work that you can explore at our office. Sometimes, the goal is as simple as fighting dental discoloration, something we can do with teeth whitening agents. If you want to restore your smile by addressing problems with tooth shape and size, but hope for a procedure more conservative than one with veneers, we can help by offering tooth bonding and contouring work.
Talk To Your Maple Grove, MN Dentist About Treatment With Veneers!
The right procedure can have a positive effect on your smile. For cosmetic work that offers exciting results and long-term value, you can talk to us about porcelain veneers! Our practice is happy to help you understand how this or another cosmetic procedure can help you feel a welcome boost in your confidence. For more information on how we can support you, reach out to Elm Creek Dental in Maple Grove, MN, today at 763-416-0606.