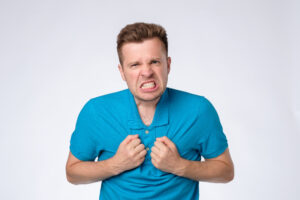 The start of teeth grinding issues puts your smile at risk, and it puts you in a situation where discomfort can feel like part of your daily life. When habitual grinding and clenching, a problem known as bruxism, is a concern, you should know that your Maple Grove, MN dentist can help. Our practice can work with you to both prevent further harm by addressing bruxism and recommending treatment for worn or damaged teeth. The state of your smile at the time of your appointment can actually affect what approach we suggest. If the problem is caught in time, minor wear and tear can be treated with conservative cosmetic treatment. For more serious damage to your enamel, we may need to provide more involved restorative dental work.
Is Bruxism Starting To Affect Your Life?
If you start to experience problems with jaw pain or sensitivity during your mornings, or issues with dental discomfort, it can be due to a night spent grinding and clenching your teeth. When your nights regularly include grinding and clenching, the pressure on your teeth and jaw can lead to more serious issues with your well-being and appearance. The good news is that this is something that can be caught and treated early. With regular dental checkups scheduled, you can receive feedback about the state of your oral health and have care for problems before there are complications.
Protecting Your Teeth Against Further Wear And Tear
With a custom oral guard, we can keep your smile safe against the friction that is generated when you clench your jaw at night. Having an appliance that is custom-made to keep your teeth separate will help you avoid further wear and tear, and it can be used in time to prevent more serious harm that can leave you with chipped and cracked teeth. The care taken to design your appliance makes it easier to keep in place so that it continues to do its job and protect your smile throughout the night. That personalized design also makes it easier to adjust to its presence when you wear it.
Planning Treatment To Restore Worn Or Damaged Teeth
If you already have concerns about damaged or misshapen teeth, we can help you take on problems through either cosmetic or restorative dental work. Cosmetic services are more conservative, as they preserve more of your healthy enamel and minimize changes to the way you look. If we have concerns about teeth that are more seriously harmed, restorative services can provide functional as well as esthetic support.
Talk To Your Maple Grove, MN Dentist About Your Problems With Bruxism
Through treatment to address bruxism, we can protect yourself if you begin to grind and clench your teeth at night. If you would like to find out more, reach out to Elm Creek Dental in Maple Grove, MN, today at 763-416-0606.