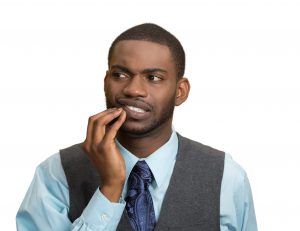 You should feel confident that your dental crown will support your bite function and protect your tooth, even if it is older. Dental restorations are needed on a permanent basis after restorative dental work. This is because our teeth are not able to recover naturally from cavities and physical injuries that demand treatment. If you have an older crown that you no longer feel you can trust to absorb bite pressure and protect your tooth, let your Maple Grove, MN dentist know! A replacement will ensure that your tooth remains safe, and that you will not experience problems with your bite that can lead to new oral health issues.
You Should Be Concerned If An Older Crown Stops Feeling Secure
If you no longer trust that your dental crown is capable of protecting your tooth, you should talk to your dentist. Over time, a crown can wear down after years of absorbing friction when you bite and chew. At regular dental exams, your dentist will check on the condition of crowns and dental fillings to see if you might need a replacement. If your crown breaks, or if it comes loose, you should make a visit to the dentist's office a priority.
Replacing An Older Dental Crown
We can replace an older dental crown with a new restoration. Our practice provides crowns made from many different material types, including crowns that are made to imitate healthy enamel. We can talk to you about the benefits of using a porcelain or zirconia crown, or for a back tooth we may discuss the advantages of a PFM (porcelain-fused-to-metal) crown. Thanks to the digital imaging technology we use to examine patients, we can take detailed measurements so that your new crown is carefully constructed to fit comfortably.
Your Dentist Can Address Problems With Older Crowns (And More) At General Dental Exams
At a routine dental appointment, your dentist will look out for more than just evidence of cavities that require restorative dental work! We also check on the status of restorations, look out for any symptoms of gum disease, and alert you to any other problems affecting your smile. By providing these services, we can help you stay better informed about your oral health. We are also able to provide early intervention before a problem worsens and demands more involved care.
Schedule An Appointment At Elm Creek Dental To Discuss Problems With Your Crown
If you think your dental crown is no longer providing enough support, call Elm Creek Dental! In addition to restoring teeth, we can provide replacements for older restorations. If you have questions or wish to set up an appointment, please reach out to our dentist's office in Maple Grove, MN, at 763-416-0606.