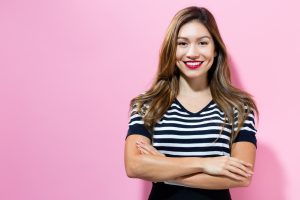 You are ready to make your smile whiter, but you may be less certain about what kind of treatment you should consider. Over the counter whitening treatments provide some benefits, but they can be less than effective at removing stubborn stains. Fortunately, you can turn to your Maple Grove, MN dentist for help with discoloration. Our practice provides two different teeth whitening approaches. One gives you a whiter smile after just one appointment, while the other will see you take home a custom whitening kit that you can use on your own time to fight difficult stains. When appropriate, we can also talk to you about alternative cosmetic dental treatments for intrinsic discoloration.
What You Gain By Discussing Whitening Treatment With Your Dentist
If you have already tried to brighten your teeth with a store bought treatment, you may be concerned that your desired smile color is out of reach. These products can offer some benefits, but they can lack the potency of professional whitening treatments. As a result, they can be less effective at fighting the stains that bother you. At our practice, we can discuss your treatment options, which will give you the means to either fight discoloration more effectively at home or have your teeth whitened after just one office visit.
Which Approach To Teeth Whitening Do You Prefer?
One option for professional teeth whitening will see you schedule a single appointment to undergo treatment. At your appointment, we will use a special light to activate the effects of your whitening gels and produce meaningful improvements in a short time. For people with more significant stains, we may perform this procedure more than one time. During the in-office whitening process, your dentist will take care to protect your enamel as well as surrounding tissues.
If you want the convenience of a take-home whitening kit and the results of a professional treatment, we can help! We can send patients home with custom whitening kits that include advanced bleaching agents and personalized trays to help you apply these agents. After approximately ten days of daily treatments, you can see professional results.
Benefits To Discussing Other Cosmetic Treatment Options
When some people seek treatment for discoloration, they can learn that internal tooth issues, not just teeth stains, are responsible for their cosmetic troubles. Other cosmetic treatments can be more effective at resolving these problems. One option is to cap teeth with porcelain veneers. After examining your smile, we can also determine if a tooth bonding procedure can help. Both of these treatments do more than just address discoloration, as they also help change your tooth shape, size, and color.
Talk To Your Maple Grove, MN Dentist About Teeth Whitening
At Elm Creek Dental, we are ready to help our patients show off happier, brighter smiles! If you would like to learn more, please call our dentist's office in Maple Grove, MN, at 763-416-0606.