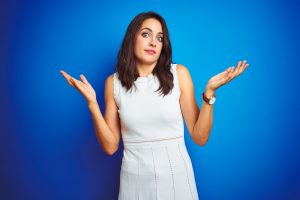 If you keep waking up with sore and sensitive teeth, or feelings of stiffness and pain in your jaw, it can be because you are unconsciously grinding or clenching your teeth as you sleep. People who experience this issue, known as bruxism, have to worry about more than just an uncomfortable start to their day, as the friction from grinding and chewing can lead to serious dental damage! Our Maple Grove, MN dental office can help you when bruxism starts to affect your quality of life. We can provide a custom oral guard that you wear while you sleep to keep your teeth separated and safe. We can also recommend oral appliance therapy for those who have jaw pain and stiffness, headaches, and other issues connected to TMJ disorder, an issue that is often connected to bruxism.
People Experience Bruxism For Different Reasons
Why did you start grinding your teeth? This problem can be related to caffeine and alcohol consumption, or it may be a byproduct of higher stress levels. For many people, it can be one of many symptoms of TMJ disorder, though for others bruxism is what starts their TMJ problems. While the cause of your nightly grinding may differ from someone else's, it will be important to make sure that your teeth are safe while you rest. We can keep your smile protected by providing an oral appliance that you can safely wear while you are asleep.
Using An Oral Appliance To Keep Your Teeth Safe While You Sleep
By wearing your oral guard at night, you can make sure your upper and lower rows of teeth are not grinding against each other. Our practice will provide you a guard that is designed to securely fit you and remain in position. Using a personalized guard designed by your dentist can be important for ensuring your smile stays safe, as you may not be able to rely on an over the counter guard for the same degree of support. Remember that if this problem is not managed properly, it can lead to unwelcome smile changes, or even dental damage that calls for restorative dental work!
What Can I Do About Enamel Wear And Tear?
If you are already worried about enamel wear and tear, we can review your treatment options! One thing we can discuss is cosmetic dental work to restore the shape of teeth that look misshapen, flattened, or damaged. For teeth that are more badly damaged, we can recommend dental crowns to provide functional as well as cosmetic support.
Discuss Nightly Issues With Bruxism With Your Maple Grove, MN Dentist
By dealing with your nightly teeth grinding problem, you can put a stop to morning tooth pain and sensitivity. You can also protect yourself against potentially serious dental damage! To find out more, please contact Elm Creek Dental in Maple Grove, MN, at 763-416-0606.