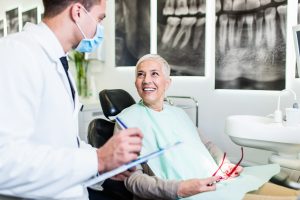 Are you doing a good job keeping your smile clean? When you think about your commitment to oral hygiene, you should consider more than just how effective your brushing and flossing routine might be. Good habits are certainly important, but you should also take advantage of the preventive services provided during routine dental exams. At our Maple Grove, MN dentist's office, we provide consistent teeth cleanings and dental exams to help our patients remain free of problems with tooth decay, gum disease, and other issues. Teeth cleanings play a significant role in protecting your smile because they remove tartar deposits, something that you cannot do one your own.
How Often Should You Schedule Teeth Cleanings?
Unless your dentist identifies a reason to have you move to a different schedule, you should have routine cleanings and evaluations scheduled every six months. At this rate, you will receive consistent care to keep your risk for dental problems low. The cleanings you receive will remove tartar and plaque deposits before they cause problems that make restorative dental work necessary. When a patient does have an issue with their oral health, the evaluation they receive can reveal it, and treatment can be recommended.
The Difference Between A Teeth Cleaning And A Periodontal Cleaning
The standard cleaning we provide removes plaque, tartar, and other harmful agents from teeth. In some circumstances, we will perform a periodontal cleaning – this means your teeth are also cleaned below the gum line. Periodontal cleanings help patients who are struggling with gingivitis. By removing the harmful microbes that have accumulated on the roots of your teeth, we can stop an infection from growing worse and causing complications to occur.
Other Benefits To Routine Exams
Your dentist can check you for cavities that have formed but not drawn your attention with painful symptoms. When a cavity is identified in an early stage of development, it can be removed, and your tooth can be restored with a dental filling before there are complications. Our practice will also provide an oral cancer screening, look out for problems with TMJ disorder and bruxism, and look for any other issues that may impact your dental health. When these problems are identified and addressed, they can be treated before more serious issues develop and require our services.
Schedule Your Next Exam And Cleaning At Elm Creek Dental!
At Elm Creek Dental, patients of all ages can count on our support as we work with you to keep your smile in great health! With your regular dental exams, you receive important protection for your teeth and gums, and you also enjoy early detection and treatment for any problems that might impact your well-being. To find out more, please reach out to our dentist's office in Maple Grove, MN, at 763-416-0606.