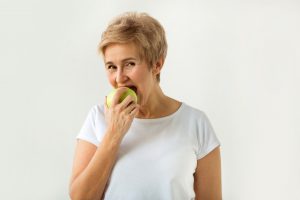 If a tooth is injured, or if sensitivity issues make eating and drinking uncomfortable, it may be due to an oral health issue that requires restorative dental work. Injuries and dental decay can both lead to problems that negatively impact your well-being in ways that can require treatment. After addressing damage or decay, your Maple Grove, MN dentist can put a dental crown in place over the tooth to keep it safe. A crown is intended to provide more than just support against further harm – when it is in place, your restoration will be able to absorb biting and chewing pressures! This ensures that you can continue to use a natural bite function.
A Crown Provides Permanent Protection For Your Tooth
Dental crowns provide permanent support for teeth when problems like tooth decay or physical trauma occur. The unfortunate truth is that when problems affect our teeth, the damage that they do can be permanent. This makes it necessary to place dental fillings and dental crowns that can be relied on to stay in place and keep a tooth not just safe but supported enough to absorb bite pressure. Different material types are used to construct dental crowns, with some material recommended for back teeth that have to absorb more pressure than front teeth that are more cosmetically important.
Different Material Types Can Be Used To Make Crowns
Metal and porcelain-fused-to-metal crowns offer a significant amount of protection, and they can be trusted to maintain their condition whenever you bite and chew food. Porcelain and zirconia crowns can also be used to restore teeth. For your front teeth that are more prominent when you smile and speak, these materials can provide long-term protection while also providing cosmetic support.
Avoid Future Dental Troubles By Staying Current With Dental Exams
While it can be a relief to know that your dentist is ready to restore your smile with a durable, custom-made crown if something goes wrong, prevention should still be your priority when it comes to oral care. At regular dental checkups, your smile will be cleaned and checked for early warning signs of tooth decay, gum disease, and other problems. These visits make you less likely to have issues with cavities, and they also provide early detection and treatment of problems that have developed.
Your Maple Grove, MN Dentist Can Restore Your Tooth With A Crown
Elm Creek Dental is ready to take care of patients' needs when they experience problems that require restorative dental work. When necessary, we can restore a tooth with a custom dental crown that provides lasting protection against damage while also offering important bite support. To find out more about our practice and services, call our dentist's office in Maple Grove, MN, at 763-416-0606.