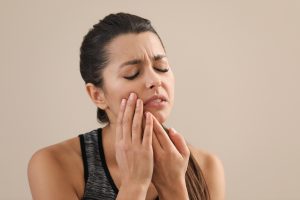 Patients are advised to spend six months between every dental exam. If you feel like something may be wrong with your oral health between these appointments, you can certainly reach out to arrange an appointment before that six month period passes. What you should also know is that when a problem seems urgent, you can count on our Maple Grove, MN dentist's office for emergency dental treatment! During these appointments, we will take care to find out what the cause of your smile trouble is before moving forward with the appropriate restorative dental work. Our goal during procedures to restore your oral health, including those procedures that are arranged on short notice, involves caring for problem teeth while also helping patients regain confidence in the way they look!
Injuries And Dental Pain Can Call For Prompt Care
You may need to see your dentist as soon as possible because you have injured a tooth. Injuries can mar your smile, as you can have visible dental flaws thanks to teeth that have been chipped or cracked. Even if the damage does not affect your appearance, the lingering discomfort can affect your bite function and general well-being. Injuries often motivate patients to schedule urgent services. However, this is not the only time when emergency treatment can be a good idea. You may need to see someone as soon as possible because of the onset of serious tooth pain, which can negatively affect your quality of life and bite function.
What To Expect During An Emergency Dental Visit
During any appointment where a patient has oral health concerns, we will take time to determine what the issue is, and what needs to happen to resolve the problem. Treatment for an injury or toothache can require root canal therapy, which deals with issues within your tooth. Once this is done, a tooth can be restored permanently with a custom dental crown. If an evaluation determines that a more conservative cosmetic dental procedure is important, we can make plans to use porcelain veneers or tooth bonding treatment to give you back your smile by hiding chipped or cracked enamel.
Will Your Treatment Restore Your Smile?
Even if your dental injury is serious, we can commit to restoring your appearance as well as your oral health. Dental crowns and prosthetic dental restorations can be custom-made to restore your smile while also making necessary improvements to your dental function and well-being.
Our Maple Grove, MN Dentist's Office Provides Services On Short Notice
Elm Creek Dental is ready to take care of patients who need attention after the occurrence of a dental emergency. To find out more about our practice and services, or to reach out for care on short notice, call our dentist's office in Maple Grove, MN, at 763-416-0606.