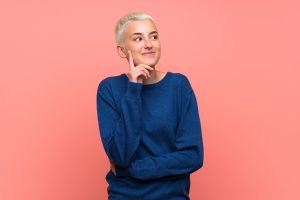 If you have a cavity, it is important that you seek treatment from your dentist as soon as you can. By making your restorative dental treatment a priority, you stop a cavity from growing further and doing more damage to your tooth. Our Maple Grove, MN dentist's office will address cavities with dental fillings whenever possible. These restorations only occupy the space where decay formed, leaving the surrounding enamel alone. You can be happy to know that the filling you receive can match the color and texture of your healthy enamel, ensuring that the restoration is difficult to see.
A Restoration Is Needed When A Cavity Forms
Even if you act quickly and have a cavity restored shortly after it forms, you will need a permanent restoration to keep it safe from any more damage or infection issues. Although it is a strong substance, enamel is not able to repair itself when it is hurt, so the restoration will actually remain in place through the years to provide this protection. If your tooth's condition calls for more than just the placement of a filling, we can use a custom dental crown in your treatment.
We Use Fillings That Match The Appearance Of Your Healthy Enamel
With an enamel-colored filling in place, your tooth can remain safe while also remaining visually unchanged. The restorations we use when restoring teeth will be able to match the color and texture of surrounding enamel well enough to stay unnoticed. This ensures that you can continue smiling and speaking without feeling the fear that your smile has been noticeably changed. The substance used is still strong enough to provide lasting functional support, so this will also preserve you ability to bite and chew food without difficulty.
What Else Can Your Dentist Do To Restore Your Oral Health?
There are times when more than a dental filling must be used to restore a tooth. If a cavity grows serious enough to call for root canal therapy, a filling will not provide enough protection after treatment. To make sure that the tooth is safely restored, your dentist will instead use a dental crown to protect it. We do offer crowns made from both porcelain and zirconia, materials that are able to imitate enamel and preserve your appearance.
Talk To Your Maple Grove, MN Dentist's Office About Receiving A Lifelike Dental Filling
Elm Creek Dental is ready to help patients who want to take care of cavity problems without seeing their smile change. In addition to helping with existing cavities, we can offer preventive care to make future problems with decay less likely to occur. To find out more about our services, and how we can help you, call our dentist's office in Maple Grove, MN, at 763-416-0606.