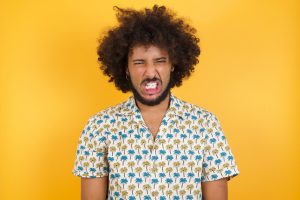 If you frequently wake up feeling pain in your face and jaw, or notice that your teeth are starting to look flat or worn, you should look into treatment for nighttime teeth grinding issues. Patients with this problem, bruxism, can experience worsening symptoms over time if they do not address it. The pressure you place on your jaw by grinding or clenching your teeth can lead to chronic pains, difficult or stiff bite movement, and trouble with chronic headaches. You can also chip or crack your enamel, which will lead to difficulties with your oral health as well as your appearance. At our Maple Grove, MN dentist's office, we can address problems with bruxism by protecting your teeth at night, and by performing any necessary work to restore teeth that have been damaged.
How Much Harm Can Bruxism Really Do To Your Teeth?
If you grind or clench your teeth at night, you can gradually wear down your enamel, leading to worrying oral health complications. Problems with aches and pains can affect your during the day because of the pressure you put on your teeth, and because of stress on your jaw. In time, the friction from grinding can leave teeth looking flat or worn down, and can eventually damage teeth badly enough to make restorative dental work necessary!
Protecting Your Smile While You Sleep
By protecting your teeth while you sleep, you can avoid the potentially serious consequences of bruxism. Wearing a custom guard from your dentist to keep your teeth apart will help you avoid damage and reduce stress. By seeking treatment in a timely manner, you can avoid wear and tear that makes your smile appear older or less healthy. If this damage has already started to become an issue, we can take time to evaluate your teeth and see if you might benefit from cosmetic dental work, or if restorative treatment is called for.
We Can Address Dental Damage That Has Already Occurred
If you already have problems with dental wear and tear, or with chips and cracks in your enamel, we can recommend the appropriate treatments. Through cosmetic work like the placement of porcelain veneers, we can make conservative changes to your tooth structure that produce significant changes in the way you look. When necessary, we can also use dental crowns to restore damaged teeth. This provides cosmetic improvements while also making sure you can comfortably bite and chew without difficulties.
Talk To Your Maple Grove, MN Dentist About Your Nighttime Teeth Grinding
If nighttime teeth grinding is not addressed, there can be serious consequences for your smile and oral health. If you think this issue is affecting you, or if you need to address damage that has already occurred, please call Elm Creek Dental in Maple Grove, MN, at 763-416-0606.