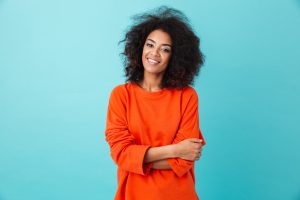 When people start to worry about the color of their teeth, their first effort to address their problem could involve the use of whitening toothpaste. In addition to switching toothpastes, they may purchase a whitening kit that is available at their nearby grocery store or pharmacy. If you attempt to use these products, you may find that they have some benefits, but that they ultimately do not deliver the kind of smile improvements you hoped for. So what should you do if you want to make your smile significantly brighter? Our Maple Grove, MN dentist's office is prepared to offer two approaches to professional whitening treatment. You can pick up a customized whitening kit from our practice and use it at home, or you can schedule an in-office procedure. Both of these options can lead to the effective removal of stains that have affected the way you look.
Would You Rather Whiten Your Teeth At Home Or In Our Office?
Because patients can choose whether they want to whiten their teeth at home, or have their teeth whitened at our practice, they can find that this cosmetic dental procedure is surprisingly convenient. Those who want to see results as soon as possible can benefit from scheduling an appointment in the office, as their treatment can be finished in just one visit. If you find that it is easier to take home a whitening kit and take care of your smile yourself, you can still see the kind of results you could look forward to with in-office care!
How Professional Whitening Treatments Deliver Exciting Results
The whitening agents that your dentist can provide are able to remove stains that store bought products are not able to touch. These stronger bleaching agents will break apart stains that have developed in deeper layers of your enamel. At our practice, we can use a special light to activate the effects of these gels so that you spend less time in the dentist's chair.
What Else Can Cosmetic Dentistry Do For My Smile?
We want patients interested in cosmetic dentistry to know that we are able to do more than just fight teeth stains. Through the use of porcelain veneers, we can actually hide discoloration, cover chips and cracks, and even deal with embarrassing alignment problems! These thin shells are specially made for patients to fit their teeth properly. We can take care of superficial flaws by performing a tooth bonding and contouring procedure. This approach will not require the use of any restorations, so fewer changes are made to your tooth structure!
Talk To Your Maple Grove, MN Dentist About Teeth Whitening
Patients who want to do something about dental discoloration can learn the exciting benefits of treatment provided by their dentist! To learn more about our services, call Elm Creek Dental in Maple Grove, MN, at 763-416-0606.