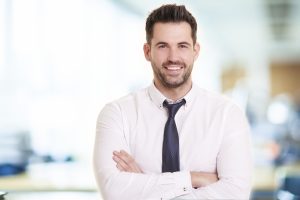 If you have a problem that is too severe for a dental filling, a dental crown will have to be crafted and placed on your tooth. You can be happy to know that crowns often make it possible to save teeth that are badly hurt, or those that are affected by a significant degree of dental decay. What may make you nervous is the idea that your crown will draw unwanted attention to itself and negatively change your smile. At our Maple Grove, MN dentist's office, we are able to provide dental crowns made from different material types, including materials that closely match the appearance of your healthy enamel!
Why We Offer Crowns Made From Different Materials
The type of crown chosen for a patient will depend on the tooth being treated – some teeth require more support, while others can benefit from a more discreet restoration. For those crowns that are hard to hide when you smile, we can place a crown made from porcelain or zirconia in order to preserve the way you look. These substances are still strong enough to allow you to bite and chew without worrying that you might damage or loosen your restoration.
Your Dental Crown Placement Experience
Before your crown can be placed, your dentist will need to take close measurements of the tooth being treated. These measurements ensure that your restoration will fit properly. After doing this, and performing preparatory work to make space for your crown, we can have a restoration created and delivered so that we can complete your treatment. At the end of the procedure to affix the crown to your tooth, you should be able to bite, chew, and speak with confidence and comfort.
We Can Also Help Patients Avoid Future Problems That Require Crowns
While it can be a relief to know that lifelike restorations are available, you should do what it take to avoid any future issues that require the placement of crowns or fillings. Even if the matter can be treated, tooth decay causes permanent harm to your tooth structure. To avoid this, make sure that you brush and floss regularly, and that you are consistent about scheduling dental checkups.
You Can Receive A Durable, Lifelike Crown At Elm Creek Dental!
If you need a dental crown put in place, we can make sure that you have a restoration that is comfortable, durable, and capable of preserving your confident smile. We are proud to provide a range of cosmetic, preventive, and restorative services to people in and around Maple Grove, and we are ready to help you take on any issues you have with your smile. To find out more about us, call Elm Creek Dental in Maple Grove, MN, at 763-416-0606.