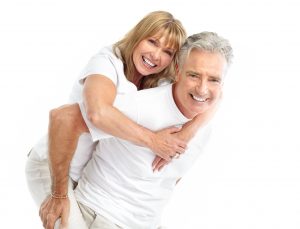 Losing even one tooth can lead to a crisis in confidence as well as frustrating functional problems with the way you bite and chew food. At our Maple Grove, MN dentist's office, individuals who have experienced tooth loss can discuss their troubles and learn about possible solutions. We can actually provide a permanent prosthetic restoration without the need to perform oral surgery, as we are prepared to provide you with a custom dental bridge. A dental bridge stays in place thanks to a pair of dental crowns that act as abutment teeth. They will be placed on the teeth that surround the gap in your smile – with their support, you can trust that your bridge will remain in position even as you use it to bite and chew.
Tooth Loss Can Create Serious Problems With Your Smile And Oral Health
While the cosmetic impact of tooth loss can be serious, the problems with this problems are not limited to how it concerns your smile. Losing even one tooth can force you to change the way you bite and chew. That change can be difficult to adjust to, and over time it can lead to stress and strain on your joints and muscles. When that stress builds up, it can result in TMJ disorder.
Receiving A Dental Bridge
To permanently replace a lost tooth, or multiple adjacent teeth, we can design a dental bridge that we put in place for you. The dental bridge will have a replacement tooth (or replacement teeth) sandwiched between two dental crowns. The crowns are put in place on the teeth at either side of a gap in your smile. Once this placement is performed, your bridge will remain in place to improve your appearance and give your bite more support. Before designing your bridge, your dentist will take care to closely measure the area being restored so that your prosthetic is the ideal shape, size, and color for you.
What Else Can Be Done To Restore An Incomplete Smile?
In addition to using dental bridges to restore incomplete smiles, we can discuss treatment with dental implants. Implants allow you to permanently secure a prosthetic without modifying teeth – what will happen instead is a small titanium post will be inserted into your jawbone to hold your restoration. After this occurs, you will be able to bite, chew, and speak with the knowledge that your restoration will remain secure!
Talk To Your Maple Grove, MN Dentist About Receiving A Dental Bridge
Elm Creek Dental is prepared to help patients who are ready to do something about tooth loss. If you want to know more about dental bridges and their effect on your smile and quality of life, call our dental office in Maple Grove, MN, at 763-416-0606.