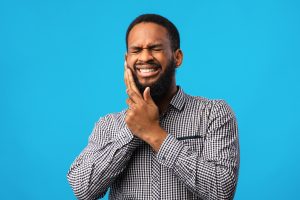 If something as routine as biting and chewing starts to become painful, or if you avoid speaking because you are bothered by jaw stiffness, you should worry about the potential impact TMJ disorder is having on you. This condition can have several different causes. Poor bite alignment, an injury to your jaw, trouble with your joint alignment, and teeth grinding can all be linked to this trouble. What you should keep in mind is that until the matter is addressed, you can experience a frustrating degree of pain as well as limited jaw movement. If your problems include teeth grinding, dental damage is also a real concern. At our Maple Grove, MN dentist's office, patients who show signs of TMJ disorder can receive treatment, which can benefit their dental function as well as their quality of life.
You May Be Dealing With TMJ Disorder
If you are experiencing any of the following symptoms, you may be affected by TMJ disorder:
Difficulty opening and closing your jaw
Pain or sensitivity issues when you speak, laugh, or otherwise move your jaw
An increase in headaches
Pain in your face and neck
Problems with teeth grinding
At a routine dental exam, your dentist can talk with you about issues with your jaw movement, or discuss the symptoms you are experiencing that suggest a problem with TMJ disorder. Once the matter is addressed, you can enjoy better bite function and an improvement in your quality of life!
An Oral Appliance Can Deal With Tension And Alignment Issues
With oral appliance therapy, we can ease tension on your muscles and correct problems with the alignments of your joints. Alleviating these problems can help to ease the aches and pains you have experienced. This correction can also help to improve your bite so that you reduce the amount of stress you experience at a given time. An appliance can also help to stop teeth grinding that takes place while you sleep.
We Can Also Address Related Concerns With Teeth Grinding
If your difficulties with teeth grinding, also known as bruxism, are addressed in time, an appliance can protect your teeth before damage affects your enamel. If there are already worrying signs of wear and tear, we can discuss your treatment options. For milder damage, we may be able to restore your smile with cosmetic dental work. For more severe problems, it may be necessary to cap damaged teeth with dental crowns.
Talk To Your Maple Grove, MN Dentist About TMJ Treatment
If you are experiencing difficulties with TMJ disorder, we can help! Through the appropriate treatment, we can ease tension or pain in your face, jaw, and head, improving your bite function and quality of life. To learn more, call Elm Creek Dental in Maple Grove, MN, at 763-416-0606.