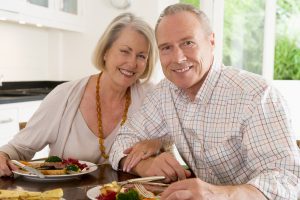 Along with changing your smile in ways that make you self-conscious, tooth loss can have an alarming impact on your dental function. If you have to work around the loss of even one tooth, you can start to overuse the ones that remain, and you can put pressure on your jaw joints and muscles that can cause lingering discomfort to build up. At our Maple Grove, MN dentist's office, we can talk with you about prosthetic dental work that actually strengthens your bite and makes jaw movement more comfortable. With the support of a dental implant, a prosthetic can be trusted to absorb bite pressure, which means you no longer have to consciously change your jaw function!
Dental Implants Give Your Prosthetic Lasting Support
A dental implant itself is not a prosthetic tooth. With that said, it does play an important role when it comes to supporting the restoration that you receive. Your implant will be set directly into your jawbone – the placement is carefully determined, as its location can affect the stability and support you enjoy. In time, your bone will heal from the placement and actually merge with the post. At this point, the restoration is set in position. With the implant holding it in its proper spot, you can trust a dental prosthetic to remain secure even as you continue to bite and chew with it.
What Kind Of Restorations Can Implants Hold?
A dental implant can hold a dental crown in order to replace a single tooth. If you need to address the loss of several teeth, or even the total loss of your upper or lower teeth, a series of implants can be used to hold a larger restoration. In addition to supporting crowns, implants can be used to hold dental bridges and even dentures for many years.
Tooth Loss And Your Jaw Health
Some consequences of tooth loss take time to reveal themselves. One issue, the deterioration of your jawbone, can occur gradually. Losing a tooth means losing the roots that stimulate the bone over time. That stimulation is what tells your body to continue providing nutrients to the bone – when that nutrient flow is stopped, deterioration takes place. Your dental implant can stimulate the bone and revive that flow, preventing problems with a weakened jaw. This also has a cosmetic benefit, as sustaining your jawbone density helps you avoid your face exhibiting a "sunken" appearance.
Talk To Your Maple Grove, MN Dentist About Implant Dentistry
Should you look into the benefits of implant dentistry? With the right support and the right prosthetic, you can regain better bite support and more confidence in your smile after tooth loss! To find out more, please call Elm Creek Dental in Maple Grove, MN, at 763-416-0606.