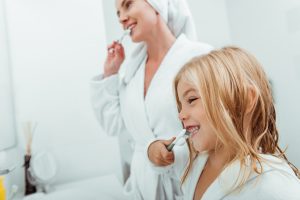 Parents are responsible for their kids' oral health, and they also have to make sure their own needs are being met when it comes to preventing dental problems. Even if your child is able to brush and floss on their own, you still have a role to play by encouraging them to perform these tasks well, and by providing smart, smile-friendly meals and snacks for them to enjoy. Our Maple Grove, MN dentist's office has experience supporting families with their oral health needs. We provide pediatric dental visits as well as routine checkups and teeth cleanings for adults. During visits, you and your kids can also enjoy guidance and tips regarding good dental health.
Bring Your Family To An All-Ages Dentist's Office
Having an all-ages dentist's office to visit can make oral health matters more convenient. This arrangement also means that you have someone you can trust who covers everyone's oral health needs. Because your dentist will be familiar with your child's oral health history and issues, they can offer tailored guidance to you if you have questions about how to better help them at home.
Help Your Kids Stay Safe From Tooth Decay
Once a child is old enough and coordinated enough, they can begin brushing and flossing their teeth without your direct assistance. While you can be less involved at this point, it is still important that you offer guidance and encouragement for them. You may want to be present with them while they clean their teeth, at least when they begin taking on this responsibility themselves. You also provide support when you stick with healthy snacks and meals, as the right diet choices can make it easier for kids to grow up without cavity troubles!
What Oral Health Issues Should Adults Worry About?
How can you make sure that your smile remains in good health for many years? Stick to a good oral hygiene regimen in order to protect your teeth as well as your gums. Your gum health can actually be more important than you realize, as periodontal disease can raise your risk for tooth loss, and it can also make you more vulnerable to general health issues. Like kids, adults should stick to good eating habits as well as good dental hygiene. Cutting sugar and working to keep your smile free of harmful bacteria can make it less likely you will need restorative dental work at a future appointment.
Your Maple Grove, MN Dentist Can Help Patients Of All Ages Care For Their Teeth
Your Maple Grove, MN dentist's office has experience helping patients of all ages care for their teeth and gums. If you would like to find out more about us, or if you have questions about a particular service, call Elm Creek Dental at 763-416-0606.