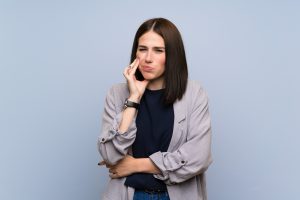 When something as fundamental as biting and chewing food becomes difficult or painful, you should be concerned. More than one issue can compromise your natural bite function. Sometimes, the issue will be with the alignment of a person's jaw joints, or stress on the joints and muscles. For others, dental pain or tooth loss can force changes in how they bite and chew. Our Maple Grove, MN dentist's office has experience taking care of patients who develop issues with biting and chewing. After a problem is identified, we can recommend a solution that provides lasting support for you.
Dental Problems Can Affect The Way You Bite And Chew
Being unable to bite and chew without discomfort can be difficult for many reasons. You may have to begrudgingly give up certain favorite foods, and it may even become difficult for you to maintain a nutritional, varied diet because of your aches and pains. Ignoring these problems can also lead to their growing worse in time. Jaw troubles can lead to facial pain, teeth grinding, and even frequent headaches. An issue with an aching tooth can worsen over time if that tooth has become infected. A severe infection can even lead to the loss of a tooth, and the spread of bacteria to other parts of your body.
Restoring An Injured Or Infected Tooth
A root canal treatment is used to address internal tooth problems caused by decay or injury. The procedure leads to the safe and careful removal of tissues before your pulp – the central chamber of the tooth – is sealed. Once this is done, the tooth can be protected with a permanent dental crown. You can talk with your dentist about using a lifelike restoration if the tooth being restored is visible when you smile and speak.
Issues With Your Jaw Can Start To Affect Your Bite Function
If you have a problem with the alignment of your jaw joints, or if you are struggling because of facial pain or sensitivity, you could be dealing with TMJ disorder. Over time, TMJ disorder is capable of limiting your jaw movement, and may lead to further troubles with headaches, face and neck pain, and teeth grinding. A custom-made appliance can reduce pressure on your jaw joints and muscles, which can help you put an end to pain.
Discuss Problems With Your Bite Function At Our Maple Grove, MN Dentist's Office
Our Maple Grove, MN dentist's office has experience taking care of patients who struggle with pain whenever they attempt to bite and chew food. Through the appropriate treatment, we can offer relief from ongoing discomfort and take on any issues that might threaten your oral health. If you would like to learn more, call Elm Creek Dental at 763-416-0606.