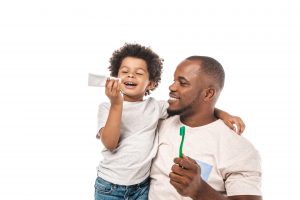 There are many important lessons parents must impart to their kids. In order to help them grow up with healthy teeth, and wonderful smiles, it is important that your kids receive guidance on proper oral health care. The right instructions can help them form habits that keep them safe from cavities and gum disease as they age. So how can you make sure they are developing good practices, while also helping them understand why a healthy smile is important? Taking time to show them effective brushing and flossing methods, and encouraging smart diet choices, will be important. You can be glad to know that in addition to lessons from you, your kids can enjoy helpful instructions from their Maple Grove, MN dentist during pediatric dental checkups.
Encouraging Kids To Brush And Floss Effectively
Simply put, it is hard to protect your smile if you do not develop good brushing and flossing habits. Unfortunately, people sometimes fail to see their own shortcomings when it comes to smile care, which means their instructions can be less effective than they hope. When instructing your kids, emphasize the importance of being thorough, and reaching every area of their smile with their toothbrush. Placing a timer in the bathroom, and setting it for two minutes, can help them develop a feel for a good brushing session. Between this and thorough flossing, your kids are less likely to develop problems in hard-to-reach areas that require restorative dental work.
Teaching Kids About The Link Between Their Diet And Their Dental Health
In order to protect yourself against tooth decay, you should be making a conscious effort to limit your sugar consumption. Because kids often have stronger cravings for sweets, guidance on smart dieting can be particularly important. One thing you should certainly do is pay attention to what you provide for their snacks. Healthy snacks can keep them full, provide more nutrients, and also limit how much sugar they enjoy.
Pediatric Dental Visits Can Help Kids Learn About Good Smile Care
Regular dental exams are important at every age. While adults count on these visits for updates about their dental health, kids receive this feedback as well as helpful lessons on oral hygiene. Just as your lessons can help them form good habits, your dentist can provide instructions on brushing and flossing, and information on the threat of cavities, to keep them on track for good smile care!
Elm Creek Dental Provides Oral Health Services For Area Families!
Elm Creek Dental in Maple Grove, MN is proud to provide quality oral health care for patients of all ages. Parents and their kids can depend on us for oral health support during regular checkups, and we are able to provide a range of restorative, cosmetic, and prosthetic services. If you have questions about our practice, call Elm Creek Dental at 763-416-0606.