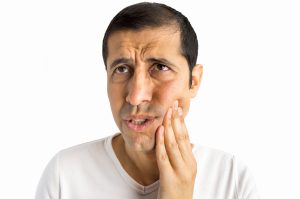 A dental emergency can be defined as anything that harms your oral health and would get worse if you waited until tomorrow. While some dental emergencies, such as a tooth falling out as a result of an accident or a tooth breaking while you are eating, may seem obvious, some can be more difficult to identify. So, in today's blog, your Maple Grove, MN, dentist will give some examples of what may constitute a dental emergency and explain how we take care of our patients during these situations.
Examples of a Dental Emergency
As mentioned above, some dental emergencies are very easy to identify, while others are more difficult. However, it is important to remember that a dental emergency should not wait until tomorrow because the situation could get worse. Oftentimes, this would be due to a higher risk of tooth decay due to exposure of the soft inner parts of your tooth, or perhaps a risk of infection or the need for extraction. With this in mind, some examples of a dental emergency include:
A particularly painful or long-lasting toothache
A permanent tooth becoming extremely loose, or falling out completely
A tooth breaking
A tooth chipping or cracking badly, especially if it becomes discolored or is painful
In any of these situations, the best course of action is to call Elm Creek Dental as soon as possible to set up an emergency appointment. If any of these issues were caused by decay or infection, it will continue to get worse, and if physical trauma has occurred, the inner parts of your tooth may be exposed, and these soft parts are extremely susceptible to decay and infection, as well. If you call us, there is a chance that we can restore your tooth and eradicate the issue in one visit. If you wait, your only option may become extraction.
In Our Office
When you call us with a dental emergency, our helpful staff will set up an appointment so that you can come into our office as soon as possible. We will also give you pointers on the phone of things you can do to reduce your discomfort and give us the best chance at restoring your teeth, such as managing your pain with an ice pack and medicine, and keeping all pieces of your teeth in a container (which, in the best-case scenario, would also be filled with milk or salt water to preserve the tooth) to bring with you. When you arrive, we will immediately get to work on restoring your tooth either using the pieces you brought to us or with a dental crown or, if your problem is a toothache, we will diagnose your issue and figure out the next steps to alleviate your pain. It is our goal to fix your problem in the least amount of time necessary in order to allow you to get back to your usual routine without worry.
What Are You Waiting For? Call Us!
A dental emergency can quickly become a serious matter, so don't hesitate to call our office whenever something seems wrong! If you think you might be experiencing a dental emergency, contact our team at Elm Creek Dental in Maple Grove, MN, right away by calling 763-416-0606.