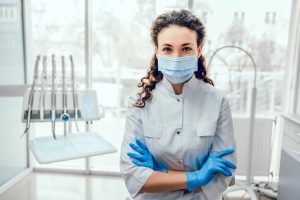 It's March, which means that spring is almost here, and it's National Women's History Month! There are too many women who have made a great impact on dentistry to name them all, but we at Elm Creek Dental want to pay homage to a few of the female dentists who made history when women were not often allowed to do so. In today's blog, your Maple Grove, MN, dentist will tell the stories of three women who changed the course of dental history for the better.
1. Emeline Roberts Jones
Emeline Roberts Jones made history in 1855 as the very first woman to become a practicing dentist. When she married her husband, a dentist by the name of Dr. Daniel Jones, at 18 years old in 1854, she expressed to him that she was interested in dentistry, only to be denied her right to study because Dr. Jones believed, as many wrongfully did, that women's hands were too clumsy and not strong enough for dental work. So, Emeline defied her husband by studying and practicing secretly in 1855, when she extracted and filled hundreds of teeth before her husband found out. When he did, he was so impressed with what she had done that he invited her to practice alongside him, and she became well known as a very skilled dentist. When her husband died, she continued practicing dentistry by herself for as long as she could to support herself and their two children.
2. Lucy Hobbs Taylor
Lucy Hobbs Taylor became famous in 1866 as the first woman in the world to earn a DDS. Initially rejected from two separate schools because of her gender, the Eclectic Medical College and the Ohio College of Dentistry, Lucy began studying with a professor named Dr. Jonathan Taft, who worked for the latter. She began her own dentistry practice in Cincinnati in 1861, then another in Iowa, and finally earned her doctorate in dentistry in 1866 from the Ohio College of Dental Surgery. She got married in 1867 and taught her husband dentistry, and they opened a practice together in Kansas where they practiced for 20 years.
3. Ida Gray
Ida Gray had to overcome several hardships to enter history in 1890 as the first African-American female dentist. After being orphaned and growing up in segregated schools in the South, Ida attended high school in Chicago, where she met Dr. Jonathan Taft while helping in his office. He taught her about dentistry, and she became so inspired that she entered the University of Michigan School of Dentistry, from which she graduated with her DDS in 1890. She had a successful practice in Cincinnati and later in Chicago, and she was famous not only for her great accomplishment, but for the fact that she chose to treat both white and black patients. Ida inspired one of her patients, Olive M. Henderson, so much that Olive became Chicago's second African-American female dentist.
Let Us Inspire Your Smile
At Elm Creek Dental, we want you to have an inspired smile. We are always happy to answer your questions whether over the phone or at your checkups and cleanings, so contact our team at Elm Creek Dental in Maple Grove, MN, today by calling 763-416-0606.