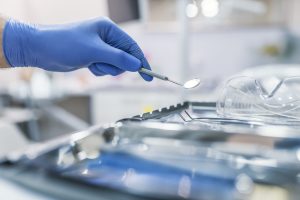 What can you do to keep your teeth safe and healthy over a lifetime of use? There's one dental procedure in particular that is crucial when it comes to meeting this goal. In fact, you could consider it the most important dental procedure of all: a dental checkup. It sounds simple, and that's because it is. By making biannual trips to your dentist for a dental checkup and cleaning, you can avoid most major oral health complications. There are restorative treatments that can help you rebuild and protect damaged teeth, but the most effective form of oral healthcare prevents that damage from ever occurring.
Dental Checkups Allow Your Dentist to Get a Closer Look
If you're someone who has struggled with cavities — or more serious conditions like infected root canals — it's probably because you skipped out on dental visits for a prolonged period of time. Dental checkups allow your dentist to visually inspect your teeth for signs of decay or gum disease. During this time your dentist can also use imaging technology — like digital x-rays — to look at the structure of your mouth and build a complete view of what's happening to your teeth. If your dentist finds a developing issue, they can recommend treatment and prevent a major problem from cropping up.
Dental Cleanings Give Your Teeth a Reset
You need to thoroughly brush and floss your teeth at home for this kind of preventive treatment to work, but your dental cleaning is here to help too. During your dental cleaning, a trained professional can reach all of the problem surfaces in your mouth and remove any buildup of tartar or plaque. While you shouldn't rely on these cleanings to catch any unbrushed surfaces, they do offer your teeth a kind of reset. Removing that bacterial buildup can stop cavities before they fully form on the surfaces of your teeth.
Oral Cancer Screenings and Periodontal Treatment
As part of your regular visits, your dentist may also perform other preventive procedures to ensure your long-term oral health. Oral cancer is a common form of cancer that, when detected early, generally leaves patients with a positive prognosis. Screening for this cancer is simple and can save lives. Periodontal cleanings remove bacterial buildup beneath the surfaces of your gums. If you are showing signs of gingivitis, your dentist may perform a periodontal cleaning to remove this bacteria and eliminate gum disease.
Make Your Biannual Appointments at Elm Creek Dental
Simple preventive care is the most important step you can take when it comes to preserving your teeth. At Elm Creek Dental, we provide thorough preventive care in a comfortable environment. Schedule your biannual appointment at Elm Creek Dental in Maple Grove, MN by calling our office at 763-416-0606.