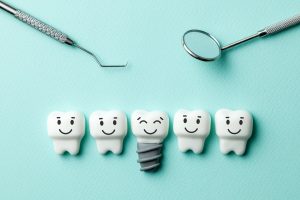 Tooth loss can be a crippling condition, both physically and emotionally. It physically hampers your ability to chew and eat food. It can also cause you physical pain, and cause you to feel self conscious in social settings. Replacing your missing teeth can help you recover from tooth loss from a physical and mental standpoint. The nature of your tooth loss may influence how you choose to replace your missing teeth. Dental implants are strong prosthetics that can be used to provide individual tooth replacement, but they can be used in concert to replace an entire set of missing teeth.
Dental Implants are Biocompatible, Titanium Posts
Dental implants are all placed individually, which is part of what gives them their strength and versatility. Your implants won't rely on the strength or stability of your other teeth, giving them added bite power. Dental implants are surgically placed, meaning that they will fuse to your jawbone and hold in place as you chew. The titanium post that your dentist implants will be topped with a dental crown — giving you a lifelike tooth replacement that can function just like your natural tooth.
Combining Dental Implants Can Replace an Entire Set of Teeth
While dental implants are individually surgically placed, they can be used in concert. Your dentist can use a number of dental implants to replace individual teeth across your mouth, but dental implants can also be used to stabilize a prosthetic like dentures. Dentures are an effective way to replace many or all of your teeth, but since they are held in place with adhesive, they don't typically have bite power comparable to your natural teeth. With the added stability and security of implants, dentures can be much more effective at replacing natural teeth.
Rebuilding Your Smile with Dental Implants Offers Improvement
Dental implants can rebuild your smile through individual tooth replacement, or by combining with other dental prosthetics. With your smile restored, you can enjoy an increase in self esteem and confidence in social and professional settings. You will also experience an improvement in your ability to comfortably chew and eat food. Replacing missing teeth also has the added benefit of preventing your natural teeth from shifting. Your remaining teeth can shift and become misaligned over time when there are gaps in your bite.
Discover Restorative Dental Implants from Elm Creek Dental
Precise dental implant surgery can allow you to recover from tooth loss and enjoy a healthy smile throughout your lifetime. At Elm Creek Dental, we carefully craft an individualized treatment plan based on your tooth loss pattern to rebuild your smile effectively. Schedule a consultation at Elm Creek Dental in Maple Grove, MN by contacting our office at 763-416-0606.