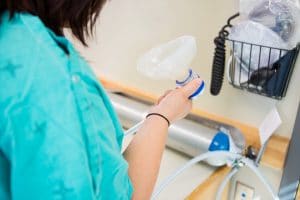 If you suffer from dental anxiety, you know that this problem is a serious issue that creates hurdles for your health. You may even realize that you need dental care, but you feel unable to seek the care you need because of your anxiety. Although it may seem difficult, reaching out to your dentist is the best way to combat dental anxiety. Your dentist has tools — like dental sedation — to help you overcome anxiety. You may have heard of dental sedation, and you may be wondering whether or not it's a safe option for you.
Dental Sedation Can Be Administered Without an IV
The prospect of "sedation" can strike fear in many people. You may picture anesthesia, which can be used for some significant procedures. However, casual dental sedation doesn't use an IV, or even require you to lose consciousness. Your dentist can use nitrous oxide as a sedative that relaxes you and allows you to comfortably attend your dentist appointment. You'll have little-to-no memory of the visit afterward, but the effects of nitrous oxide wear off shortly after your appointment, so you'll be able to return to work or school afterward.
Your Dentist Can Answer Your Dental Sedation Questions
It's important for you to receive the dental care that you need! Dental sedation is a safe solution for many people with dental anxiety. However, ultimately, your dentist will be able to determine whether or not you're a good candidate for dental sedation. Using your medical history and current health, your dentist can tell you if dental sedation is a good option — and for most patients nitrous oxide is perfectly safe!
Elm Creek Dental Will Work with You to Get You the Care You Need
Your dentist is your partner in securing a bright future for your oral health. If you've got questions and concerns, reach out to Elm Creek Dental for answers. Dr. Carter and his friendly staff emphasize a positive, solutions-based care environment. Don't let dental anxiety jeopardize your oral health. Schedule an appointment for consultation, or ask about dental sedation by calling Elm Creek Dental in Maple Grove, MN at 763-416-0606.