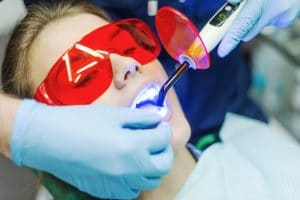 You deserve the best care possible when you visit your dentist. So, how can you be sure that's what you're getting? Dentists provide great care with their personality, care environment, and by using the latest technology. When you visit a dentist that embraces modern practices, you'll experience less pain and more precision. That's exactly what laser dentistry provides. If you're not familiar with dental lasers, they seem like a futuristic technology. The future is here. Dental lasers can now be used for any number of treatment methods — from restorations to whitening to treating gum disease. Does your dentist use the latest available technology to provide you with the best care possible?
Laser Dentistry Decreases Pain and Hassle by Increasing Precision
You're not the only one who benefits from laser dentistry. Your dentist wants to provide you with the best care he or she can. Laser dentistry increases your dentist's ability to perform procedures with precision. You'll experience a decreased risk of pain and infection when treated with laser dentistry. The lack of surgical incisions that come with laser dentistry also allow you to recover quicker, and with little-to-no scarring.
Laser Dentistry Can Be Used for Restorations and Preventive Treatment
Laser dentistry also provides value to both you and your dentist, because it's a versatile treatment method. Laser dentistry can be used to treat periodontitis. This advanced form of gum disease takes hold beneath the gum line, so accessing the areas that need treatment can be difficult and painful using old treatment methods. Laser dentistry makes this a non-issue.
Lasers can also be used to prepare and sterilize teeth that are receiving a restoration, like a dental crown. In this scenario, you wouldn't need the traditional anesthetic that often comes with restorations.
Visit Elm Creek Dental for a Quality Care with Laser Dentistry
If you're ready for the best quality dental treatment, it's time to find a dentist that provides laser technology. Elm Creek Dental is proud to give its patients the best care imaginable. To schedule an appointment with Elm Creek Dental in Maple, Grove, MN, contact the office at 763-416-0606.