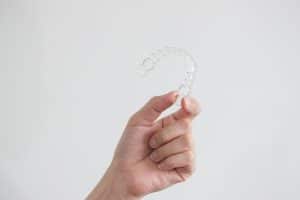 What you holds you back from taking the next step in feeling good about the way you look? You may be hesitant to undertake a cosmetic dental treatment because you're worried about the timeline and the process itself. No one wants to upend their life in the short term for a future payoff. Luckily, modern dentistry affords you opportunities without the sacrifice. Everyone wants a straight, even smile, but the idea of braces can be a real turnoff. Invisible aligners provide you with the teeth-aligning effect, without the obtrusive look and feel of traditional braces. Getting straight teeth can be easy, you just need the right treatment.
Invisible Aligners Are Easy, Discreet, and Comfortable
While modern braces are much more tolerable than old-fashioned headgear, they still present some less-than-ideal realities. Braces create a visible distraction from your smile, and they can create an impediment to your speech depending on your situation. Furthermore, they can be incredibly uncomfortable. That's because braces use a system of metal wires and brackets to create the pressure necessary for aligning your teeth. Invisible aligners also apply pressure, but they do so using plastic, so they are more comfortable and less noticeable.
How Do You Know if Invisible Aligners Are Right for You?
Invisible aligners seem like the obvious choice for anyone who doesn't want to compromise their lifestyle to enjoy straighter teeth. However, invisible aligners don't work for everyone. Younger patients in their late teens and adults with fully formed teeth are ideal candidates for aligners. Children with teeth that are still growing in, and adults with significant structural problems may not be able to utilize invisible aligners.
Talk to Your Dentist About Your Options for Teeth Alignment
Your dentist will always be able to provide you with the best consultation when it comes to teeth alignment. Dr. Carter and the Elm Creek team are Maple Grove's choice for all dental treatment. Talk to the staff about invisible aligners or any other issue you may have. To schedule an appointment with the Elm Creek Dental team, contact the office in Maple Grove, MN at 763-416-0606.