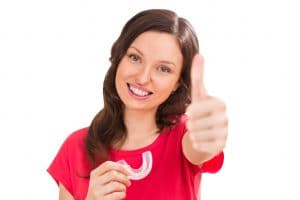 Almost every smile could use a little help to look its very best. Slight malocclusion or misalignment can create awkward gaps or overlaps that make you self-conscious. Luckily, cosmetic treatments can realign your teeth and give you full confidence in your smile. When you think teeth alignment, you may immediately think braces. While traditional braces are a popular method for aligning teeth, they aren't the sole option. It will come as welcome news to those in adulthood that want to straighten their teeth: invisible aligners offer a discreet method of correction. Find out how you can improve your smile with invisible aligners.
Invisible Aligners Differ from Traditional Braces in Key Areas
First of all, you should note the term "aligners." Braces involve metal wires which place pressure on your teeth over time to push them into proper alignment. Aligners are not braces, which means they aren't bonded to your teeth. That's great news. You can easily remove and reinsert your aligners to allow you the freedom to eat the foods you enjoy. Furthermore, since aligners are made of plastic, they don't cause nearly the discomfort that traditional braces cause. Since tooth realignment can be such a lengthy process, it's nice to know that your comfort will be considered throughout.
The Biggest Improvement Invisible Aligners Offer Is Their Discretion
No matter how old you are, one of the biggest hangups about traditional braces is their appearance. Braces are far from subtle. Since life happens quickly, there's never really a good time to add a distracting physical feature to yourself for a potential period of years. Thanks to invisible aligners, you don't have to let this concern deter you from getting the cosmetic treatment you want. Invisible aligners fit over your teeth, but don't create the same stand-out effect that traditional braces do.
Discuss Tooth Alignment Options with Your Dentist
Your dentist is the ultimate pro when it comes to improving your smile. The team at Elm Creek is ready to provide you with the consultation and treatment you need to feel great about the appearance of your teeth. To make an appointment, contact Elm Creek Dental in Maple Grove, MN at 763-416-0606.