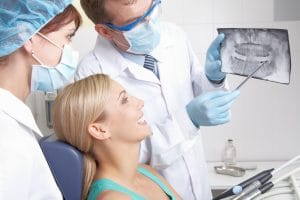 Good dental care is all about a personal touch. If you need a treatment like a crown, bridge, or root canal, you may start to feel anxious. Will the procedure be painful? What will the recovery time be like? If you get carried away worrying about questions like these, you may even talk yourself out of having the procedure done. That's the worst case scenario. If you're suffering from tooth decay or damage, doing nothing won't make the situation better. You need to take action and address the problem as soon as possible. Your dentist should provide a compassionate, comforting environment to help you along the way. You'll be amazed by the difference that the right dentist can make.
Dental Crowns Are Made for Your Personal Situation
If your tooth is damaged or decayed, and a filling won't do the trick, your dentist may recommend a crown. A dental crown is fabricated to fit over your tooth, protecting it from further damage and restoring the appearance of your smile. It's made using measurements from your actual mouth, so you're assured a precise fit. However, getting the right dentist is an equally important part of the restorative care process.
Your Dentist Can Also Offer a Valuable Personal Touch During Your Restorative Procedure
Personal dental care is about empathizing with patients. You deserve a dentist who understands what you're going through and will listen to your concerns. Finding the right environment for your dental procedure is just as important as the procedure itself. A compassionate atmosphere will make you more likely to follow through with the treatment you need. Remember, at the end of the day, it's crucial that you receive treatment so that you can begin to get better.
Dr. Carter is the Choice for Maple Grove
If you need restorative dental treatment in the Maple Grove area, turn to Dr. Carter and the Elm Creek staff. Dr. Carter has undergone several restorative treatments himself, so he can empathize with patients and provide a comfortable environment for your treatment. To make an appointment, contact Elm Creek Dental in Maple Grove, MN at 763-416-0606.