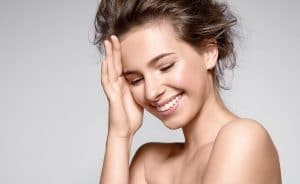 How do you feel when surrounded by other people? Are you ready to show off your pearly whites, or do you keep your mouth closed out of anxiety over the look of your teeth? Even with perfectly healthy teeth, some smiles could use a little help. Irregularities, staining, and misalignment can throw off your look, and your self esteem. If your smile doesn't give you confidence, maybe it's time for an improvement. Cosmetic dentistry includes a range of treatment options to help you feel great about your smile. No one deserves to feel nervous about sharing their smile with the world. If you're ready to feel great about your teeth, maybe you're a candidate for cosmetic dentistry.
Cosmetic Dentistry Includes a Number of Treatment Options
Cosmetic treatment is all about getting the right shape, size, and color for your smile. There are a variety of treatment options to help you get there, so here's a little background on some of them:
Dental Bonding and Contouring: Bonding and contouring is the process of removing a tiny bit of tooth enamel to correct for irregular shapes and edges to the teeth. Then your dentist can add tooth-colored, biocompatible resin to fill in any gaps or noticable grooves and ridges in your teeth.
Whitening: Teeth whitening is pretty self-explanatory. Your teeth absorb stains and discoloration from the food you eat and lifestyle habits you adopt (like smoking). Teeth whitening uses at-home or in-office treatments to bleach and whiten the teeth, restoring their original color.
Veneers: Veneers are a quick treatment option to give your smile a homogeneous look and color. Thin layers of dental porcelain that are standard in size and color are bonded to the surfaces of your existing teeth.
Cosmetic Dentistry Can Help with Confidence
Adjusting and perfecting your smile isn't a matter of vanity, it's a functional necessity for many people. You need to feel confident in your smile. You don't want anxiety over the appearance of your teeth to hold you back when it comes to social and professional settings. Explore your cosmetic options and work with your dentist to find a plan that's right for you.
Elm Creek Is Your Home for Quality Cosmetic Dental Care
Dr. Carter and his talented staff are well-versed in all manners of cosmetic dental treatments. Working with the Elm Creek staff, you'll be able to develop a smile plan that helps you feel better about the appearance of your teeth. For a smile consultation, contact Elm Creek Dental in Maple Grove, MN by calling 763-416-0606.