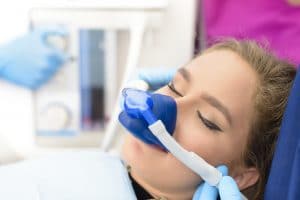 How do you feel about visiting the dentist? If you get anxious, nervous, or flat out upset by the prospect of visiting your oral healthcare professional, you're not alone. Many people suffer from dental anxiety. If you had a bad experience at the dentist's office as a kid, that can create a lasting, negative impression. If you know that you've been neglecting your brushing and flossing routine, that can also make it difficult to want to schedule an appointment. You know something's wrong, and you don't want to face the consequences. However, that will only make any existing problems worse. The most important thing is that you adhere to your regular visit schedule. Luckily, sedation dentistry can help relieve your anxiety.
What Is Sedation Dentistry, and How Does it Relieve Anxiety?
Sedation dentistry is different from the sedation you would receive when undergoing surgery. Sedation is administered via a low level of nitrous oxide through a comfortable mask. The gas produces a calming effect and allows you to relax during your dental visit. The patient receiving the sedation treatment remains conscious during the procedure, but has little to no memory of the experience. The effects of the gas wear off shortly after, so you'll be able to return to work or school.
Why Would Sedation Dentistry Be Right for You?
At the end of the day, what's most important is that you receive the preventative and restorative dentistry treatment that you need to keep your teeth healthy. Dental anxiety is a very real problem for many people, so there's no shame in needing the assistance of something like sedation. If you get nervous or upset about the idea of visiting the dentist, talk to your oral healthcare professional about sedation options.
Explore Sedation Dentistry for Your Next Visit
If you think you may have some health issues with your teeth and it's preventing you from scheduling your next appointment, consider sedation dentistry. Dr. Carter is a talented, empathetic dentist who wants to ensure you get the best care possible. Talk to the Elm Creek Dental team about sedation options for your next visit. Learn more by contacting the Elm Creek office in Maple Grove, MN at 763-416-0606.