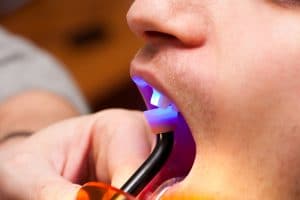 When your teeth become damaged or blemished, you want to take action to correct those problems. Thanks to modern dentistry, there are plenty of ways to fix issues that come up related to decay and wear. One such technique is dental bonding. Dental bonding provides multiple benefits. The process can provide repairs to cracks and gaps in your teeth. Through the application of a tooth-colored resin material, your dentist can fix both aesthetic and functional problems.
When you experience damage to your teeth, your life can be altered in some inconvenient ways. You may lose confidence in your smile if you have missing or broken teeth. Further, damage to your teeth can cause difficulty with chewing and cleaning. Decay tends to be a snowballing problem, so dealing with it as soon as possible is for the best.
Dental Bonding Provides a Visible Benefit
Cracks and gaps can happen to your teeth. Damage can lead to a less-than-perfect-looking smile. As one of the first things others notice about you, your smile plays an important role in how you perceive yourself. You want to feel confident when you reveal your pearly whites. If your teeth have sustained some damage, dental bonding can help. Procedures like composite bonding use a dental resin composite that is designed to blend into the look of your teeth. This substance is durable, and won't stand out in your mouth.
Dental Bonding Also Provides a Functional Benefit
In addition to repairing your smile, shoring up cracks and gaps can also help you fix your bite. Having a regular bite ensures that you're able to easily chew food, and that your teeth aren't inflicting damage on themselves. Gaps in your teeth can provide great places for harmful bacteria to hide and multiply. In order to keep your mouth protected against plaque, you'll want to get imperfections fixed.
Are You a Candidate for Dental Bonding?
To find out, you should contact your dentist. Residents in the Maple Grove area know that Elm Creek Dental is their trusted source for important dental treatments. Dr. Carter is a talented professional who can offer the best treatment method for your individual situation. Make an appointment at Elm Creek Dental in Maple Grove, MN today by calling 763-416-0606.