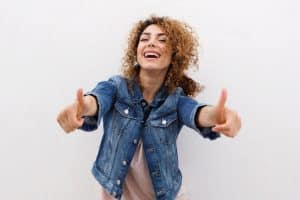 Are you starting to feel like the whiter smile you want is further and further out of reach? Before you expend any more energy trying to figure out what to do and whether you should just try something from the local drugstore, drop everything and take our advice: Skip the DIY (do-it-yourself) options, as they will be sure to disappoint (and might also damage your oral tissues). Instead, set your focus on coming in to see us for a cosmetic consultation. We'll show you all you have within reach to turn your smile into a truly gorgeous, glowing grin!
Whiten Teeth With: Teeth Whitening
When you're ready for a whiter smile and you'd like to brighten everything up, professional teeth whitening is usually your go-to treatment. Provided we discover that your staining is mild to moderate, we will be able to help you erase stains and see a dazzling grin in the mirror within under one hour at our office (or in two short weeks with home treatment).
Choose Bonding For Blemishes
Sometimes, even little blemishes can completely throw off your otherwise nice looking smile. If stains here and there are damaging the uniform shade of your smile, you may wish to consider dental bonding. We can spot-treat discoloration or whiten individual teeth for a lovely, much whiter grin.
Overhaul Your Grin With Veneers
When we talk to patients who are hoping to achieve a whiter smile in addition to a somewhat lengthy list of other goals, we often suggest porcelain veneers. Not sure if this is going to be right for you? Find out during a cosmetic consultation with us.
Whiten Your Smile With Our Help
Come in for a cosmetic treatment that will transform your discolored smile into a sparkling, white grin. To learn more about caring for your smile, schedule a visit in Maple Grove, MN by calling Elm Creek Dental today at (763) 416-0606. We proudly service the residents of Maple Grove, Brooklyn Park, Rogers, Elk River, Osseo, Otsego, Plymouth, Wayzata, and surrounding communities.