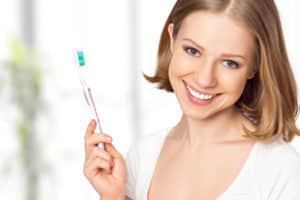 How's your dental hygiene going? Do you feel like you have gotten everything completely sorted out and you know exactly which type of toothbrush best suits your needs? Or, do you feel like you're getting closer to streamlining the experience but it sure would be nice to learn just a bit more about choosing the right brush. Lucky you! We have created a helpful Q&A session, so you feel much more confident with your choices.
Q&A: Toothbrush Choices
Question: Should I only use soft bristles?
Answer: Yes, you should only use soft bristles because they will not hurt your teeth – medium or hard bristles can be abrasive. Don't worry – soft bristles will thoroughly clean your teeth effectively.
Question: Can I try an electric toothbrush or is it important that I stick to a manual brush for my dental hygiene?
Answer: Yes, you may try an electric toothbrush. You may find that you prefer your manual brush – or, you may discover that an electric brush is easier, more comfortable, and even more effective at reducing plaque.
Question: Does the toothbrush need to be accepted by the American Dental Association (ADA)?
Answer: For the best dental hygiene, it's a good idea to seek out a toothbrush with the ADA Seal of Acceptance on it – but it is not necessary. This is entirely up to you. If you do wish for the certainty that the brush will provide effective care, look for the seal on the packaging.
Question: Can I choose any brush I like as long as it meets the requirements?
Answer: Yes! This is entirely up to you. As a result, you may wish to try several types until you discover the particular toothbrush you prefer most for your dental hygiene sessions.