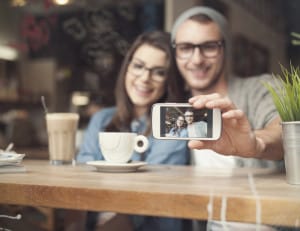 Are you finally feeling readyto hit the dating scene running, just a bit timid because of your appearance? If you're feeling less than confident about putting your "selfies" out there because of imperfections in your smile, porcelain veneers could help. Veneers allow patients to drastically improve the look of their smiles, with little damage to their existing teeth and in very little time. So don't let self-consciousness hold you back. Instead see how cosmetic dentistry could enhance your smile and your confidence!
The Many Benefits of Porcelain Veneers
Porcelain veneers can correct a number of issues with your smile. Whether the flaws in your smile are new, like a single chip in a tooth, have worsened over time, such as staining from your daily cup of coffee or tea, or are simply due to years of wear, you should consider if now is the right time to enhance your smile through porcelain veneers.
Even many alignment issues can be cosmetically corrected through the use of porcelain veneers. Sometimes they are used in conjunction with dental contouring, which can remove minor overlaps of teeth. This allows many patients to avoid the hassle and time involved in traditional orthodontic treatment. Jagged edges, chips and wears are also easily fixed with veneers, making them an ideal choice for patients concerned with more than one flaw in their smiles.
Will Veneers Hold Up Over Time?
Another benefit of porcelain veneers is that they are strong and durable, much like the enamel of your own natural teeth. The material used to create them is also highly customizable, which allows craftsman to make veneers that look incredibly natural and gorgeous. From size and shape, to shade and sheen, porcelain veneers will be completely customized to suit your ideal smile. This makes it possible for you to smile confidently, after treatment, knowing the people you meet will not even recognize that you have had cosmetic dental work done.
ABOUT YOUR MAPLE GROVE, MN, DENTIST:
To schedule an appointment at Elm Creek Dental in Maple Grove, MN, call our office today at 763-416-0606. We proudly serve residents of Maple Grove, Brooklyn Park, Rogers, Elk River, Osseo, Otsego, Plymouth, Wayzata, and surrounding communities.