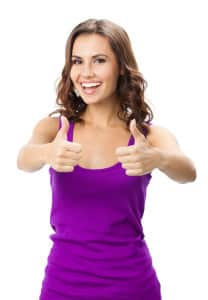 If you have lost a tooth or teeth recently, then chances are you may be feeling a range of emotions, from overwhelmed about what to do now to embarrassed about the changes in your smile. Thanks to restorative dentistry, however, you do not have to settle when it comes to an incomplete smile. Dental implants are a highly effective way to deal with the cosmetic and functional issues that can arise as the result of adult tooth loss, improving your ability to chew and speak naturally once again.
What Are Dental Implants, and How Can They Help?
Dental implants combine the cosmetic benefits of dental porcelain with the biocompatibility and strength of titanium. A porcelain crown will be used to complete the look of your smile, and to prevent your remaining teeth from shifting to try to fill the created gap. Even a single lost tooth can wreak havoc on an otherwise stable smile, so be sure to seek restorative treatment as soon as possible.
The titanium post, once carefully placed and fully healed, will also help to stimulate your jaw's health, by helping it to receive the nutrients that it would during chewing with a healthy tooth root. This is a benefit unique to dental implants, and why we strongly recommend this option in many cases. It is also a permanent restorative option, making it much more stable during chewing and speaking than some patients may find dentures or even dental bridges.
Am I a Good Candidate for Dental Implants?
During an initial consultation, we will first work to understand the cause of your tooth loss, and to address any underlying issues that may be diminishing your oral health, such as gum disease or a root canal infection. We will then let you know if you make a suitable candidate for dental implants, and if so, how long you should expect treatment to take.
ABOUT YOUR MAPLE GROVE, MN, DENTIST:
To schedule an appointment at Elm Creek Dental in Maple Grove, MN, call our office today at 763-416-0606. We proudly serve residents of Maple Grove, Brooklyn Park, Rogers, Elk River, Osseo, Otsego, Plymouth, Wayzata, and surrounding communities.