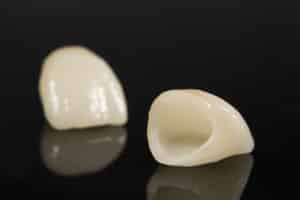 What happens when you chip a tooth? What if your tooth develops a cavity or possibly a dental infection/abscess? In order to return your tooth to optimal function and appearance we may recommend restorative treatments. We offer an array of options for helping you enjoy a whole and healthy smile.
5 Restorative Treatments in Maple Grove, MN
Fillings: If you have a cavity then we may place a filling to repair the tooth. Made from a composite resin, fillings are metal-free and can blend with surrounding tooth structure. Placing the restoration only takes a single visit and can reduce the risk of an infection, protecting the health and appearance of your smile.
Crowns: A crown fits over the visible part of a tooth, protecting the remaining tooth structure and helping safeguard the tooth against further damage or decay. Made from a variety of materials, a crown can be used to restore a tooth with decay, infection, or one that has become broken or cracked. We can also use them to hold a dental bridge in place or even complete a single tooth dental implant.
Root Canal Therapy: What if you have an infected or abscessed tooth? If so, then treatment is crucial to prevent the loss of the tooth. The process involves removing the infected tissue and thoroughly cleaning the inside of the tooth and the root canals. After placing a restorative material inside, we may a crown to complete the procedure and ensure the tooth is protected and looks natural.
Dental Bridges: A dental bridge replaces one or more teeth in a row that have gone missing. After we create the artificial teeth, we attach a crown to each end. The crowns will be placed on the remaining teeth on each side of the gap, securing the prosthetic.
Dental Implants: Another option for replacing missing teeth is a dental implant. Surgically implanted into the jaw, the new tooth will look and function like a natural tooth.
ABOUT YOUR MAPLE GROVE, MN, DENTIST:
To schedule an appointment at Elm Creek Dental in Maple Grove, MN, call our office today at (763) 416-0606. We proudly serve residents of Maple Grove, Brooklyn Park, Rogers, Elk River, Osseo, Otsego, Plymouth, Wayzata, and surrounding communities.