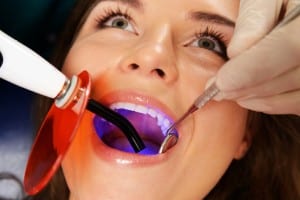 Cavities are the most commonly diagnosed dental ailment today, and are quite simple to repair in most cases. Years ago, metal (or amalgam) fillings were the gold standard when restoring a tooth affected by tooth decay; but with modern advancements, many dentists now prefer tooth-colored fillings for their unique bonding properties, natural aesthetics, and amazing strength. There are several differences between the two types of fillings, and both kinds are still used today. Test your knowledge with our simple quiz. 
True/False Quiz
1. Metal fillings are more likely to cause cracks in your teeth.
2. Tooth-colored fillings are made out of bone.
3. Instead of getting a filling, you should just get a crown.
4. White fillings can be tinted to match your natural tooth color.
Answers
1. True – Metal fillings do not bond to your tooth, and basically fit tightly within the area that has been cleaned out by your dentist. They are also notorious for shrinking and expanding when exposed to temperature changes, which can greatly increase the risks of cracks occurring throughout your tooth. White fillings create a much stronger restoration because they are designed to bond to your tooth, and move as your tooth moves.
2. False – White composite fillings are made from a resin material that consists of ceramic and plastic compounds. Great advancements have been made in the last ten years that have created an extremely strong, and durable mixture for repairing tooth decay.
3. False – Modern dentistry strives to prevent disease and when necessary, restore your teeth while losing as little of your natural anatomy as possible. The procedure for having a filling placed only requires the affected area of the tooth to be removed, and infection eradicated. If you choose to have a crown placed instead, a large portion of your tooth will need to be filed down, and shaped so the crown will fit tightly.
4. True – Composite fillings are easily tinted by your dentist to match the rest of your teeth. They can be made to look so natural in fact, that they are usually undetectable by the untrained eye.
ABOUT YOUR MAPLE GROVE, MN, DENTIST:
To schedule an appointment at Elm Creek Dental in Maple Grove, MN, call our office today at (763) 416-0606. We proudly serve residents of Maple Grove, Brooklyn Park, Rogers, Elk River, Osseo, Otsego, Plymouth, Wayzata, and surrounding communities.