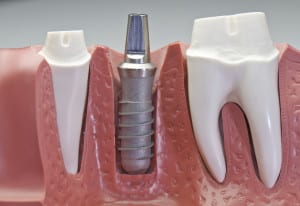 If you are missing teeth due to injury, dental disease, or other complication, finding ways to fill in those gaps may be a main priority. Returning your smile to its youthful vigor can increase self-confidence and improve your overall sense of well-being. There are several options to replace missing teeth, while simultaneously creating a beautiful appearance. Dental implants are constantly growing in popularity because they are extremely natural-looking, long-lasting, and restore natural use to your mouth that you may have lost.
The Process
The first stage of the dental implant process involves the implantation of small, titanium rods into your jaw bone where you have missing teeth. During this initial step, your oral tissues will be sufficiently numb and you may opt for the administration of a mild sedative to calm your nerves. Your dentist will carefully insert the rod into the exact location where your implant will permanently reside. Significant healing time of a few months is required post-op to allow your bone tissue to fuse with the titanium, and become a permanent fixture. After the implant has healed and become stable, it will be exposed from beneath your gums so that a custom crown and abutment can be attached to the post. This final stage will create your new, permanent restoration, and you will quickly return to normal function.
What Is So Great About Implants?
Dental implants are well received by dentists and patients alike for their amazing ability to imitate nature. After tooth loss, your bone tissue can lose density, and possibly reabsorb, creating a soft or brittle area below your gum tissue. By implanting a synthetic, root-like structure in your jaw bone, your risk of bone loss is greatly reduced and possibly eliminated. Because implants are so life-like, your restoration will be invisible to the untrained eye. They look and function just like your real teeth, and can last even longer.
ABOUT YOUR MAPLE GROVE, MN, DENTIST:
To schedule an appointment at Elm Creek Dental in Maple Grove, MN, call our office today at (763) 416-0606. We proudly serve residents of Maple Grove, Brooklyn Park, Rogers, Elk River, Osseo, Otsego, Plymouth, Wayzata, and surrounding communities.