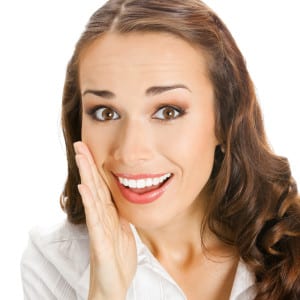 You probably don't enjoy having crooked teeth, but as an adult, you may have procrastinated thus far when it comes to correcting them. Your hesitation is understandable; image-conscious adults looking to improve their smiles may not be too keen on wearing metal brackets and wires on their teeth for a couple of years. However, what if you could enjoy the confidence of a straight smile without enduring the possible embarrassment of wearing metal braces as an adult? With Invisalign® clear braces, you can!
Why Do Teeth Grow Crooked?
Sometimes, it can seem as though your crooked teeth enjoy standing out from the crowd. After all, why else would they grow like that? The truth, though, is that teeth are meant to grow in perfectly aligned to distribute the pressure of your bite. Teeth can become crooked for a wide variety of reasons, but whatever the cause, straightening them is about much more than just your personal pride. Malocclusion (misaligned teeth) can lead to a host of dental issues by throwing your bite off balance. Not to mention, the odd angles and edges of crooked teeth provide excellent hiding spots for oral bacteria, plaque, and food debris that your toothbrush may not always reach.
Convenience & Discretion with Invisalign®
So how do you get your smile back on track without using the traditional bracket-and-wire setup? Invisalign clear braces address the conundrum by revamping the approach to orthodontic treatment. Instead of attaching brackets to your teeth, then moving them by tightening a connective wire, Invisalign utilizes clear acrylic aligners that slip on and off of your teeth with ease. Each successive aligner moves your teeth a bit further towards their goal. Aside from being virtually undetectable, removable aligners mean you don't have to alter your eating habits to appease braces. Your hygiene routine can also continue as before; simply remove the aligners until you've finished eating or brushing your teeth, then replace them once you're done.
ABOUT YOUR MAPLE GROVE, MN, DENTIST:
To schedule an appointment at Elm Creek Dental in Maple Grove, MN, call our office today at (763) 416-0606. We proudly serve residents of Maple Grove, Brooklyn Park, Rogers, Elk River, Osseo, Otsego, Plymouth, Wayzata, and surrounding communities.