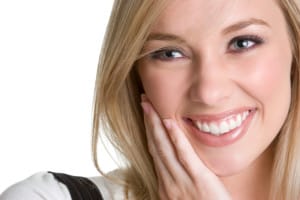 Even when your smile is healthy and free of tooth decay and gum disease, it might still be affected by one or a few cosmetic issues. Teeth stains are common, as are chipped and slightly misaligned teeth, and when it comes to improving your smile, we offer a variety of cosmetic dental treatments to improve your unique cosmetic concerns.
A Cosmetic Technique Just for You
Teeth Stains
Whether it's your penchant for several cups of coffee every morning or your relaxing, habitual few glasses of wine at the end of some days, your teeth can develop noticeable stains for several reasons. Yet, even if you refrain from dark foods/beverages, and you brush and floss your teeth twice every day, the things you do consume can still stain your teeth over time. When it occurs, we can brighten your smile by erasing the stains with a choice of professional teeth whitening options.
Chipped Teeth
There are several ways to fix a chipped tooth, from non-invasive dental bonding to a porcelain veneer or dental crown. If the chip isn't severe, then we can bond tooth-colored composite resin to the tooth, then shape, harden, and polish the bonding for a natural, beautiful finish. For a more involved restoration, a porcelain veneer can be bonded to the front surface of the tooth to completely reinvent its appearance, or a dental crown can be placed completely over the tooth.
Crooked Teeth
With modern cosmetic dentistry, you may also have several options for straightening crooked teeth that don't involve traditional braces. For minor cases of misalignment, a series of porcelain veneers can often create a more symmetrical, more appealing smile in a quick, conservative manner. Or, we may recommend Invisalign® clear aligners, which are made from nearly invisible acrylic and can be removed before eating and brushing your teeth.
ABOUT YOUR MAPLE GROVE, MN, COSMETIC DENTIST:
To schedule an appointment at Elm Creek Dental in Maple Grove, MN, call our office today at (763) 416-0606. We proudly serve residents of Maple Grove, Brooklyn Park, Rogers, Elk River, Osseo, Otsego, Plymouth, Wayzata, and surrounding communities.