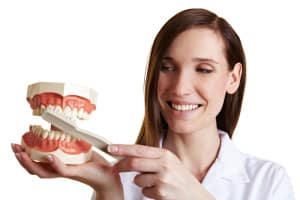 You might more-easily recognize terms and concepts about your dental health than those concerning your systemic health. For instance, the best way to keep your smile healthy, like brushing and flossing teeth, is taught much earlier in life than the best ways to keep your heart healthy, or to prevent chronic illnesses.  Despite its relative simplicity, however, good dental health still requires continued attention and care, both at home and at your trusted dentist's office.
A Few Minutes a Day at Home
Almost like walking, talking, and eating, brushing and  flossing your teeth should seem instinctual. To be effective, it should also occur at least twice every day, without fail. The reason the routine is necessary is because plaque, ripe with bacteria that lead to numerous dental health issues, forms constantly on your teeth and gums. The best way to prevent most common issues, like cavities and gingivitis (the precursor to gum disease) is to inhibit the formation of dental plaque with your toothbrush and floss.
Be sure to use a soft-bristled toothbrush, with the American Dental Association's Seal of Approval, and toothpaste that contains enamel-strengthening fluoride. When you floss, do so first, rather than vice versa, so you can then brush away the particles that are removed from between your teeth.
Why Dental Care Is Necessary
While your daily hygiene is vital, so too is your schedule of dental checkups and cleanings, which  should be attended at least once every six months. Not only can we remove leftover plaque and tartar from your teeth and along your gum line, but also check to make sure that your teeth and gums are still healthy and disease-free. If left there long enough, the bacteria in plaque and tartar can eventually cause dental damage that leads to tooth decay and gum disease. If we detect these issues early, then we may have a better chance of preserving more of your healthy tooth structure and gum tissues.
ABOUT YOUR MAPLE GROVE DENTIST:
To schedule an appointment at Elm Creek Dental in Maple Grove, MN, call our office today at (763) 416-0606. We proudly serve residents of Maple Grove, Brooklyn Park, Rogers, Elk River, Osseo, Otsego, Plymouth, Wayzata, and surrounding communities.